MGMT Group Joins Hydrema Dealer Network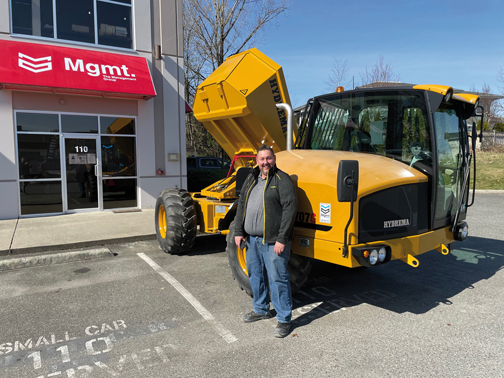 Kris Binder, executive vice president of Hydrema North America proudly welcomes MGMT Group to the Hydrema North America dealer family. MGMT Group will represent Hydrema's full line of equipment in the lower mainland of British Columbia.
"MGMT Group is extremely experienced and well versed in the construction industry having a business that operates as both a heavy construction contractor and equipment rental," said Allen Patterson, Hydrema regional business manager. "Because of this depth of knowledge and experience, they will provide Hydrema customers with outstanding service."
"We're excited to partner with Hydrema whose quality is the best I have seen on the market," said Chris Meyer, president of MGMT Group. "I've been in the construction business for over 20 years and now have the pleasure to offer our fellow contractors first class construction equipment that will deliver maximum uptime and efficiency on their jobsites."
MGMT Group will now carry Hydrema's entire line of equipment which includes articulated dump trucks, backhoe loaders, and wheeled excavators.
"Selling construction equipment for a manufacturer with a proven track record for over 60 years makes starting up a new dealership much simpler," said Mike MacKenzie, sales manager of MGMT Group. "Hydrema's innovative ways will help us achieve much success."
"Our goal is to build a long-lasting legacy by providing innovative earthmoving machines to construction & industrial companies in British Columbia, Canada. I look forward to being a major contributor to a very exciting new team of people who have similar goals," he added.
MGMT Group's sales staff has been fully trained in the application, sales, parts and service of Hydrema's full product line in addition to prompt and professional parts and service support. The company supports Hydrema throughout the lower mainland of British Columbia with its Surrey, BC branch location.
Source: A/S Hydrema