Tree Felling Is Their Profession
The german term "Straßenbegleitgrün", meaning plants and trees alongside roads, is a word that probably only exists in German. In any case, it is this roadside greenery that keeps the Weng brothers busy every day and keeps them working. For around 10 years, the brothers Torsten and Marco have been pioneers in North Rhine-Westphalia in the care of trees and greenery along traffic routes.
In addition to numerous other machines, it is above all a SENNEBOGEN 830 R-HDD with a cutting head and a reach of around 17 m that can bring down even the largest and heaviest trees along the roads.
For a good 3 years now, the Weng Group has been successfully using a SENNEBOGEN 830 R-HDD, a machine that is not an everyday occurrence in this work area, for its demanding problem tree felling operations. Developed with the appropriate reach height and load capacity, the 830 R-HDD also cuts a fine figure as a felling machine.
On a wet and cold January day along the A44 freeway, their task was to fell numerous diseased alders and American oaks dangerously leaning into the roadway over a total length of around 1 km.
"Our time window for this work is very limited. We are only allowed to enter this area between 9:00 a.m. and 2:30 p.m.; from 3:00 p.m., when rush hour traffic starts, the road must be completely clear again," explained Torsten Weng.
Fast, Precise Work in Tight Spaces in a Short Time
The 3 men in the felling troop are used to the traffic that rushes past them in the direction of Essen. While Torsten Weng steers the material handler and safely puts down the large trees overgrown with ivy, his colleagues Stanislaw Sawada and Grzegorz Jacek make sure that everything around the trunk is exposed. Piece by piece, the trees, which are up to 16 m high, are removed in a controlled manner. The last cut is made with a chainsaw, because the cutting head has to be protected from stones and debris so close to the ground. In order not to obstruct the traffic too much, only the hard shoulder and the entrance to the highway are closed.
Why a SENNEBOGEN 830? The Question is Quickly Answered
"The SENNEBOGEN 830 R-HDD offers us everything we need for our daily challenges. Thanks to its long reach of over 17 m, we can safely get to even the most distant trees and work on where others can't. With the comfortable load capacity of around 4.5 t @ 10 m reach, for example, and a high hydraulic power, we can also operate large attachments safely and reliably."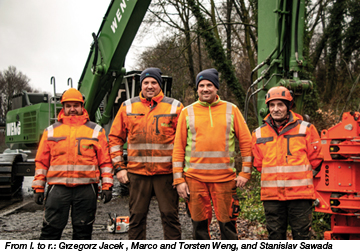 The SENNEBOGEN 830 E itself is equipped with a 168 kW (225 hp) diesel engine and can reduce its track width from 3.8 m to 2.3 m for transport by thanks to the telescopic undercarriage. Driver Torsten Weng always has an optimum view of his working area from the cab, which can be raised by 2.7 m and tilted by 30°, and is also optimally protected at his workplace with FOPS protective grids and bullet-proof glass.
For about 10 years the Weng brothers have been pioneers in road and tree care. Whereas in the past, the company's activities also included the felling of individual problem trees and the maintenance of greenery, today Weng specializes in roadside greenery along freeways and expressways. Thanks to an extensive fleet with several excavators, shredders and tractors, the felled material can usually be shredded and disposed of or recycled directly on site.
The company also takes care of machine transport and shut-off measures itself, thus offering a "one-stop shop" service. So it is no wonder that Weng has numerous year-rund contracts around the Ruhr to manage the growing stock of trees and greenery.
"The quality and reliability of the SENNEBOGEN machines convinced us completely. We have to work quickly and efficiently on our jobs, we cannot afford downtime. The good service and support provided by the sales and service partner BRR Baumaschinen Rhein-Ruhr here in the Ruhr area also helps us in this respect," concluded Torsten Weng.
Source: SENNEBOGEN Maschinenfabrik GmbH