AORS Municipal Public Works Trade Show
The Association of Ontario Road Supervisors (AORS), together with Simcoe County Road Supervisors Association, will be hosting the Annual AORS Municipal Public Works Trade Show, June 1-2, 2022, at the Sadlon Arena (formerly Molson Centre) in Barrie, Ontario. It is the largest of its kind in Ontario with between 200 and 300 exhibitors of public works products and services, and upwards of 2,000 participants.
After being cancelled the last 2 years, AORS is anxious to welcome everyone back. This 2-day trade show provides an opportunity for public and private sector public works employees to share information and technical developments in the materials, services and equipment required to build and maintain municipal roads and other core infrastructure.
The exhibitors showcase products and services for core public works infrastructure including road and bridge construction, maintenance and rehabilitation, building maintenance, facility management, communications, design/engineering, emergency disaster management, equipment/fleets, GIS/GPS, internet technologies, parks & grounds, storm water/flood control, municipal surveying, traffic and pedestrian control, transit, underground locating utilities, wastewater collection and treatment, water treatment, public works staff training and education.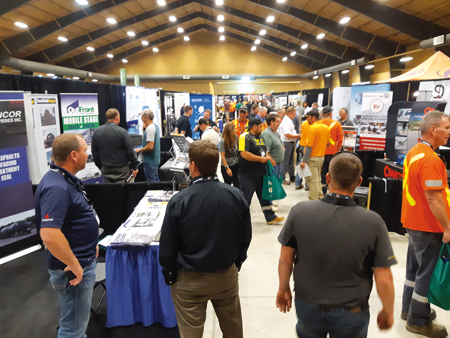 Visitors to the trade show include a broad cross section of municipal public works professionals, including:
Public Works Directors, Superintendents and Managers;
Directors/Managers of Operations and Operations Personnel;
Fleet/Fleet Safety Managers;
City and County Engineers;
Consulting Engineers;
Construction Directors/Managers;
Solid Waste Managers/Coordinators;
Public Facilities/Grounds Directors and Managers;
Water Services Directors/Managers;
Transportation Directors/Managers;
Private Contractors/Area Maintenance Contractors.
The City of Barrie and all the municipalities of Simcoe County, and the Simcoe County Road Supervisors Association look forward to welcoming exhibitors and delegates to the region, and encourage everyone to enjoy the many attractions on offer. See you in June!
Source: Association of Ontario Road Supervisors (AORS)