EDDYNET Goes FLEXX!
EDDYNET Mechanical Sweepers Attachment, is proud to present the new FLEXX™ sweeper.
Many municipalities have roads with sidewalks and gutters and require that the debris be picked up while sweeping. As well, the sand and winter abrasives can often be simply pushed aside onto the shoulder of the road. The FLEXX™ is a 2 into 1 sweeper. You need a pick-up sweeper and an angle sweeper? The FLEXX™ will do both.
Available right now with 610 mm (24'') diameter brushes with a sweeping width of 1.8 m to 2.4 m (6' to 8'). The 813 mm (32'') brushes version with a sweeping width of 1.8 m to 2.7 m (6' to 9') will also be available later this spring.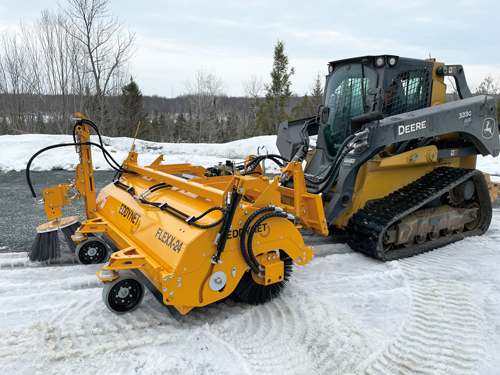 The FLEXX™ is available for front attachment (push) applications or for behind attachment in pull or push version.
If you are looking for a versatile, heavy-duty, long lasting and low maintenance sweeper, the EDDYNET® FLEXX™ is just what you need.
EDDYNET will showcase the new FLEXX™ sweeper at booth #173 during the AORS Municipal Trade Show, that will be held in Barrie, Ontario, June 1-2, 2022.
Source: EDDYNET Inc.