Tunnel Formwork Carriage Supports Construction of Werrington Grade Separation Tunnel, in the UK
With a £1.2 billion ($2billion) upgrade, Network Rail will increase capacity for passenger trains on the East Coast Main Line. This includes building a new 2-track railway line that will allow freight trains to dive under it at Werrington, north of Peterborough, UK.
By tunnelling under the existing line with the new railway line, the capacity of the East Coast Main Line should be increased and travel times reduced.
For the construction of the tunnel, the VARIOKIT VTC Tunnel Formwork Carriage and other PERI standard components were used for a solution which, despite its rectangular structure, delivered a curved result. Optimally coordinated formwork and scaffolding solutions from a single source, as well as clever advance planning services, ensured that the project ran smoothly.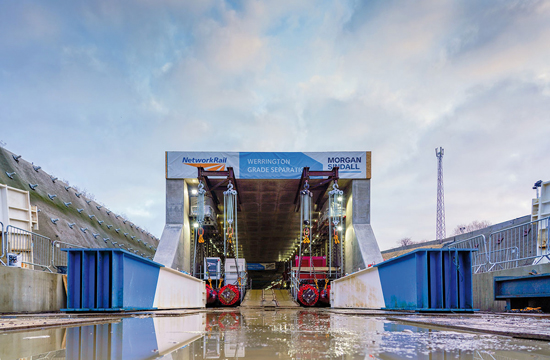 The curved, around 160 m long tunnel was cast monolithically with just a single rectangular tunnel formwork carriage. During a 9-day closure of the railway line in January 2021, the structure was lifted into position.
Bell Formwork Ltd needed a solution that would allow them to complete the tunnel quickly, efficiently and without increased material costs. In order to design this solution together, an international team of PERI engineers from the UK and Germany was involved in this project from the very beginning and combined their expertise from past projects.
With a customized VTC Tunnel Formwork Carriage, consisting of standard components from the VARIOKIT Engineering Construction Kit in combination with GT 24 Girders and battens in different lengths, the project requirements could be met. Not only did the system form the tunnel's curvature, it also reduced the amount of special formwork to a minimum as only one tunnel formwork carriage was required.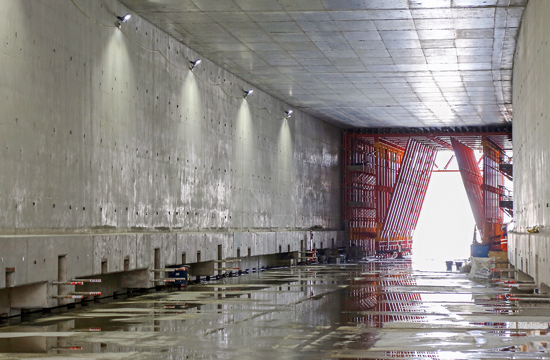 The hydraulic system of the VTC Tunnel Formwork Carriage played an important role during the project – it allowed the client to quickly and safely strike both undersides and inner slabs at the same time and move on to the next section without having to dismantle and reassemble the tunnel formwork carriage. Once up and running, only minimal adjustments were needed beyond that. In total, the tunnel was thus cast in 9 concreting sections, each 17 m long and 8 m high. The combination of concreting sequence and the high speed of the VTC System helped to save a full 10 days per cycle.
In order to allow access to the slab undersides, a movable stair tower consisting of components from the PERI UP Scaffolding Kit was integrated at the front end of the formwork solution. This could be moved together with the VTC Tunnel Formwork Carriage. PERI UP's compatibility with the formwork solution enabled seamless access for operatives as it continued travelling with the VTC carriage to each casting section. This minimized the installation effort and saved valuable time on site.
Source: Network Rail, Bell Formwork Services Limited, PERI UK