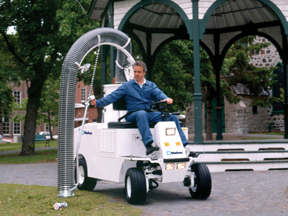 Madvac offers a new engine cut-off option
to the Madvac 101
Consistent with its tradition of innovation, the Madvac 101 is the ultimate in versatility and offers unmatched manoeuvrability while disposing of litter. Expertly designed to meet the cleaning challenges of today's busy streets, the Madvac 101 is a high profile, cost-efficient cleaning machine. Most importantly, the Madvac 101 gives you options to customize your machine to your needs.
The new "Engine Cut-Off" option prevents the operation of the Madvac 101 by shutting the engine off if the operator attempts to leave the operator's seat without properly setting the parking brake. When this results, the engine shuts off after 5 seconds. When the parking brake is properly engaged, a pilot light is illuminated on the dash to indicate that it is safe to leave the operator's seat while the engine is kept running. As a result, it becomes impossible to start a Madvac 101 when the parking brake is not applied and when the operator's seat is vacant.
Among the other features of the Madvac 101 vehicle, we note a patented straight through suction system, an 8-in diameter suction hose, a power assisted vacuum arm and an 80-gallon capacity litter container. It is powered by a 28 hp Kubota liquid cooled diesel engine and is also available in gasoline or liquid propane versions.
Source: Johnston Madvac Inc.