Rail-Car Cargo Handling Safely Becomes One-Man Job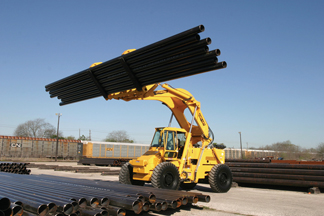 Cargo handling is often considered a labor-intensive, and potentially hazardous operation. Pettibone, a premier manufacturer of material handling equipment, has a solution that keeps the expense and safety of cargo on track.
The Cary-Lift® is the only heavy-duty specialty lift that allows a single operator to load or unload a gondola car, adding a whole new level of safety and efficiency to material handling.
The only heavy-duty lift of its kind, the Cary-Lift features a unique overhead lift arm design that mimics the movement of a human arm. Made of high strength steel, the Cary-Lift boom features a 90-degree tilt-down, and baler arms on the fork carriage to clamp loads securely in place. This enables an operator to reach the boom up and over the side of a railcar, grab a load, and pull it up and back out again. No additional workers are required, a big safety improvement over multi-worker methods.
In addition to its ergonomic construction, the baler features Pettibone's proven precision hydraulic system, which allows easy operation through dual joystick controls. Operators can tilt the frame and also shift the load by up to six inches in either direction, which ensures accuracy under varying terrain conditions.
Cary-Lift operators are quick to recognize the difference. Ryan Norris at Durabond, a corrosion-resistant pipe coating applicator in Pennsylvania, says, "What I like about the Cary-Lift is you can get into tight spots and level the machine on rough, uneven terrain." Another advantage of the Cary-Lift is its visibility when transporting a load. The boom is above the cab and out of the operator's line of sight. No other specialty lift gives the operator such a clear field of vision.
The Cary-Lift is available in 10,000 to 30,000-pound standard capacity models. With its wide stance, four-wheel steering and hydraulic frame sway control, the operator can safely maintain maximum lift capacity in a full turn. Four feet of forward reach at every lift height maximizes productivity, and its wide range of attachments make the Cary-Lift useful for many different applications such as pipe, pole, and log yards. This is the perfect solution for moving the heaviest of loads including pipe, concrete, steel, and utility poles.
Source: Pettibone
Montréal Tracteur Inc., 1-800-361-2282