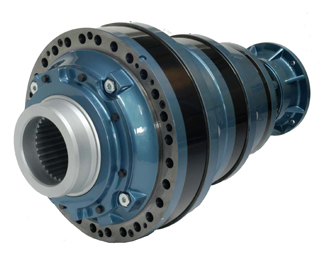 Brevini Power Transmission at IFAT
IFAT 2008, which was held in Munich, Germany, from May 5 to 9, 2008, is the International Trade Fair for Waste Management and Environmental Technology.
Brevini Power Transmission - through its companies Brevini Riduttori, PIV Drives, Brevini Winches and Piv Posiplan - presented its complete range of planetary gear units and in-line and right-angle gear units that are able to satisfy all the needs of this fast-developing sector.
The percolator is a continuously operating, horizontal cylindrical reactor with a hydraulic mixing system and a hydraulic scraper. The organic waste is inserted in the percolator and sits for two days. Afterwards, it is washed with process water to eliminate soluble matter. The addition of compressed air and bacterial activity trigger the decomposition of organic material through aerobic hydrolysis. The processed water, enriched with degradation products, leaves the percolator through the grate. A screw feeder sends the solid substances to the dewatering screw press.
S Series Brevini gearboxes - which cover the segment ranging between 34 000 Nm and 500 000 Nm - are used to drive the percolator. They are the perfect solution for these applications that require high performance and high torque in compact spaces. S Series gearboxes, which come in 9 dimensions, are very sturdy and quiet. Thanks to its numerous output and input options and the wide range of accessories, the S Series has expanded the use of Brevini planetary gear units in a vast range of industrial sectors. The planetary gear unit solution described here is 40 to 60% lighter and smaller than traditional gearboxes.
Brevini's gearboxes are playing a major role in helping to overcome the growing environmental problem of waste recycling. The gearboxes are providing the modularity, lightweight and compact performance required on a range of machines, designed for shredding waste, including domestic, tires and medical equipment, and also for reclaiming operations. Easily configured to suit the application, they can be fitted with a hydraulic or electric motor. The Posired 2 series of planetary helical gearboxes is ideal for waste shredding machines. With an output torque of up to 800 000 Nm, Posired 2 is an extremely versatile system composed of just a few components that can be quickly assembled at competitive costs and in a wide variety of configurations to provide the best standard and customized power transmission solutions.
Source: Brevini Power Transmission