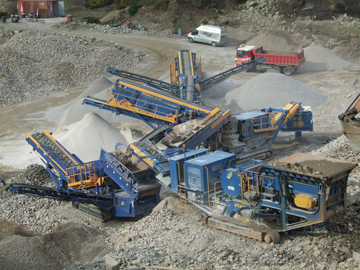 Fintec Wins Queen's Award
for Export Achievement
Fintec Crushing and Screening Ltd, part of the Sandvik Group of Companies, has won the Queen's Award for Export Achievement. The award is designed to reward "a substantial and sustained increase in export earnings to a level which is outstanding for the products or services concerned and for the size of the applicant's operations."
Fintec manufactures track-mounted mobile crushing and screening equipment for the demolition, recycling and extractive industries, and is an established leader in its field, its products in demand around the world. Backed by the support of highly experienced local dealers, Fintec has earned a loyal following from customers as far afield as India, Australia, Latin America, Japan and South Africa as well as Russia and Central Europe. This brand loyalty led to the company winning a coveted International Trade Award and the Northern Ireland Exporter of the Year award in 2006, retaining the latter award the following year.
Fintec Crushing and Screening Ltd operates from a 12 000 m2 state-of-the-art manufacturing facility at Ballygawley, Northern Ireland that was opened in June 2001, and from an 18 000 m2 warehouse facility that was opened in March 2006. The company employs over 350 people, a figure that is expected to rise to more than 400 during 2008 to match current demand levels.
In May 2007, the company was acquired by Sandvik which bought Extec Crushing and Screening Ltd at the same time. These strategic acquisitions helped propel Sandvik into the number three position in the global screening and crushing mobile market that is worth in excess of ¤2 billion annually. Since that acquisition, Fintec has continued to innovate, adding the critically-acclaimed 1440 track mounted impact crusher to its product line at the CONEXPO-CON/AGG exhibition in Las Vegas earlier this year. This new model combines Fintec's experience in the design of mobile crushers with Sandvik's unquestionable leadership in the manufacture of high output impact crushers and marks a major milestone in the company's product development.
Fintec will formally receive the Queen's Award during a ceremony at the company's Ballygawley facility later in the year.