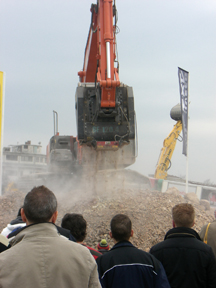 Major Successes for Meccannica Breganzese
at Samoter and CONEXPO-CON/AGG
MB, Meccanica Breganzese - always in the running!
The local Vicenza company, worldwide leader in the production and sale of bucket crushers, never relents, but just keeps forging ahead straight towards its targets - objectives always more demanding, awards constantly on the horizon - MB wins hands down!
The winning company came home triumphant from the Verona Samoter 2008 trade show after having presented the four models in their bucket crusher line to return to their everyday routine. Over 1000 confirmed MB customers visited the stand specifically to congratulate and thank MB, once again, for having given them an exceptional work tool, the indispensable bucket crusher! An overwhelming number of new customers, from Africa, the Middle East and the Far East, were simply amazed at the sight of the bucket crusher's characteristics. Yet, to see it in action simply left them speechless.
While the public watched the bucket crusher in action, a presenter explained how it worked and described its many advantages including the latest innovation - the "Iron Separation" phase!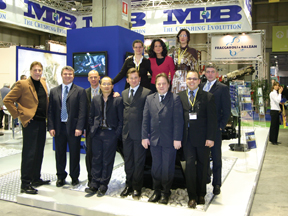 When MB attends a trade fair it practically brings the entire sales staff to the exhibition. Spread out between the test field and the demonstration area, the inside stand and the outside stands, they provide support to the Italy, Germany & Spain, Middle East, and Australia area managers in close relations with their customers.
Just after Samoter, Meccanica Breganzese, known in the United States as MB Crusher, took off for CONEXPO-CON/AGG.
In Las Vegas, the company from Vicenza and the local dealer, Giberson Enterprises, introduced their innovative products - all four models of bucket crushers - to the North American public.
The close relationship between MB and the local US dealer gave excellent results! With their inside stand in the Central Hall and their setup in the "demonstration area", they were able to present and show the bucket crushers to thousands of visitors.
And that is still not all! Meccanica Breganzese will participate to other major trade shows in the coming months. Visit the company's website at www.mbcrusher.com for more details.
Source: Meccanica Breganzese