Waste Disposal Trucking Firm
Selects SmartFleet® GPS Vehicle Tracking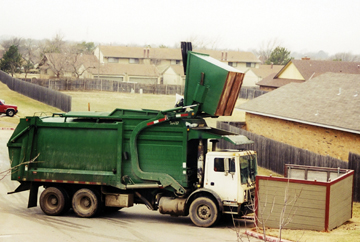 Connecticut waste removal and demolition firm AMEC Carting has selected Safefreight's GPS vehicle tracking system to provide them with real-time fleet management data for their trucks.
"SmartFleet® provides us with the tools to better serve our customers and reduce fleet costs," said AMEC president, Guy Mazzola. "We looked at a number of vendors but we chose Safefreight because of their user-friendly internet application and their commitment to customer service," he added.
With SmartFleet®, AMEC users can easily create real-time exception-based alerts to optimize customer service and fleet productivity. Beyond knowing where their trucks are, when they got there and how long they stayed, SmartFleet® also provides AMEC important information about keeping those vehicles properly maintained and on the road. The SmartFleet® GPS fleet management system provides a service that delivers information to increase AMEC's overall productivity and profitability.
According to a 2007 report by the Aberdeen Group, businesses are "...using fleet management solutions to realize such benefits as 12,2% increase in service profitability, 13,0% improvement in vehicle utilization, and 14,8% decrease in travel time, and 27,9% increase in operator compliance." The report also concludes that businesses justified the investment in fleet management solutions as a result of average annual savings of $1100 per vehicle in operational costs alone.
With the recent addition of new features to SmartFleet® Manager ­ Safefreight's online fleet management software ­ clients can: optimize routes and send turn-by-turn directions to drivers in real-time; quickly identify closest vehicle to a location and dispatch that vehicle for more efficient deployment of fleet assets; and visualize SmartFleet® data in Google Earth.
"We appreciate the opportunity to help AMEC enhance their level of customer service through telematic fleet management," said Curtis Serna, CEO of Safefreight. "AMEC is a service oriented company and they expect the same high standard from their suppliers. We look forward to meeting that standard," he added.
Founded in 1998, Safefreight is a developer and provider of a GPS AVL system for fleets in a range of industries including energy, transportation and hazmat. Through SmartFleet®, it provides full fleet visibility and security through telematic technology that integrates an onboard GPS device, vehicle to internet software, and cellular or satellite communications so that managers have the tools to optimize their fleet resources, customer service and safety.
Source: Safefreight Technology