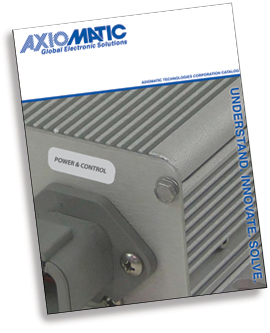 Axiomatic Technologies Catalog
Axiomatic Technologies announces the release of its new printed catalog, which highlights the company's growing lines of compact rugged controllers packaged for harsh operating environments.
The catalog includes a broad range of CAN SAE J1939 or CANopen I/O modules, valve drivers, engine temperature monitoring devices and battery chargers, as well as analog controls, DC converters, surge protectors and much more.
Each model number is listed for easy ordering, and provides input/output specifications and packaging dimensions. It is a condensed yet helpful tool to assist in which products are right for you and your application.
Since there are thousands of applications that are new, unique, or too complicated – such that no generic product could meet all the needs – Axiomatic offers rapid development of new control solutions for OEM requirements. Please contact Axiomatic for OEM control design or off-the-shelf solutions.
Source: Axiomatic Technologies