Continental Provides New Tires for Payload Transporter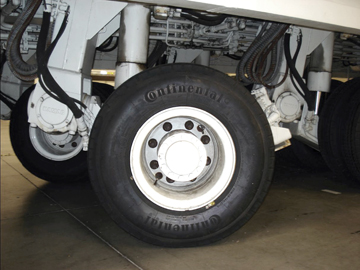 Continental Tire North America, Inc. recently provided new tires for a ground transporter vehicle that will be used to support Atlas V rocket launch processing at Vandenberg Air Force Base, California.
United Launch Alliance (ULA), a joint venture of The Boeing Company and Lockheed Martin Corporation, contacted Continental to provide replacement tires for its KAMAG Transporttechnik self-propelled Transporter Platform. Continental was chosen to supply the replacement tires based on the manufacturer's specifications, said Steven Mansker, subcontract administrator for the ULA's Atlas V Launch Operations Program at Vandenberg.
The KAMAG transporter, which is 19,3 m long, is used to move Atlas flight hardware from its loading facility to the launch pad at ULA's Space Launch Complex 3 at Vandenberg Air Force Base. The capacity of the KAMAG transporter is 200 000 kg and it travels at 13 km/h.
Continental provided a set of 82 15-inch HTR (Heavy Trailer Regional) tube-type tires for the KAMAG transporter and they were installed in mid-April, said Clif Armstrong, Continental's director of marketing for Commercial Vehicle Tires – The Americas.
Continental's HTR features a multiple-rib tread design that provides excellent wet traction and lateral stability. The tire's high ply ratings provide durability for long casing life, and see-through grooves aid in water evacuation.
The Atlas and Delta expendable launch vehicles have carried nearly 1300 combined payloads to space ranging from weather, telecommunications and national security satellites, to deep space and interplanetary exploration missions.