Merlo Telehandlers Now Distributed by Mazergroup in Manitoba
Manulift, Canadian importer of Merlo innovative telehandlers, has recently concluded an important contract with Mazergroup for exclusive distribution of Merlo products in Manitoba. Mazergroup is the most important New Holland dealer in Canada. This giant Manitoba company is already involved in construction and agriculture with 13 branch offices now carrying the entire Merlo range of 72 models.
Manulift, the leader in telehandlers in eastern Canada is now heading west with a strategic expansion plan for 2009. The expansion plan consists of signing dealer agreements with dynamic businesses established and recognized in their respective provinces for the quality of their goods and services.
In order to ensure growth and to support new dealers, a start-up plan has been jointly established with all the Manulift departments. For a 90-day period, this plan includes providing the tools and training for the sales, parts and mechanics departments. After the 90-day period, the new dealers will be able to operate the Merlo franchise autonomously with Manulift continuing to provide support and expertise.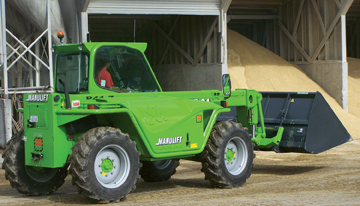 A variety of models will soon be delivered to the branch offices of Mazergroup including rotating (Roto) and Panoramic models for construction and the Turbofarmer and Multifarmer models for agriculture. Due to the exclusive technology and patents of the Merlo models, more than 550 machines have been sold in Canada since 2004. Class 1 hydrostatic transmission, full anti-torsion ring of steel, motors and low fuel consumption hydraulic systems are just some of the traits that Manitobans will be able to appreciate in the months to come.
"Mazergroup is a family business like Manulift. There is a new dynamic generation with growth ideas that will work through the Merlo range. We are therefore very happy to conclude this contract. We foresee a very good future in Manitoba with this deal for the Merlo brand and a good business relationship," comments David Latour, Manulift sales manager.
Source: Manulift EMI Ltd.