New MethoCAD module boosts mobile crane safety
The latest version of the award-winning MethoCAD site preparation software from Creative Business Solutions includes an innovative new module designed to ensure the safe operation of mobile cranes, particularly when they are dismantling tower cranes.
There have been several fatal accidents when operators have overridden the safety controls in order to carry loads that are too high for distance they are reaching, says general manager Albert Fitoussi. "This is the direct consequence of a lack of preparation," he says.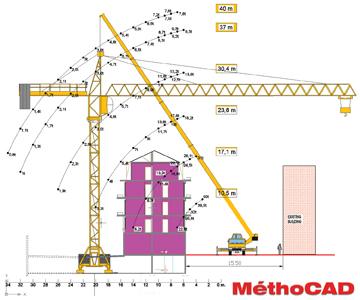 Studying the site layout would have indicated potential problems, but an estimated 70% of companies do not carry out this kind of check to their mobile cranes before work starts on site, he says.
The new version 9 of MethoCAD makes it easy to address the issue. The new module helps the user to check that the proposed mobile crane's boom length, angles and loads will be within allowable limits. At the click of a button, the user can see on a plan drawing the loads at each position of the crane hook, with concentric circles indicating allowable values.
MethoCAD contains information supplied by manufacturers so that the capacities of different models are accurately represented. The CAD-based software also takes account of space limitations on site, which can be a particular issue once the permanent works are in place.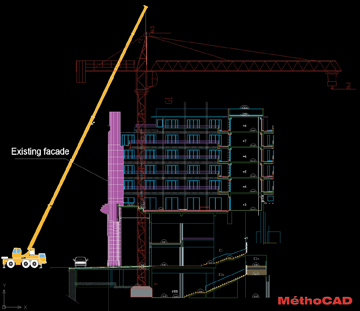 All too often, the mobile crane driver arrives on site only to find that access is limited and that the job would require the crane hook to be extended further than permitted values. Planning the operation in MethoCAD helps avoid the dangerous situation where the operator decides to override the safety devices and attempt the job by lifting loads greater than those that are authorized by the manufacturer.
Planning in advance improves productivity and avoids accidents, says Mr. Fitoussi. Preparations for mobile cranes tend to be neglected, even though companies do generally now plan in advance where they will position their tower cranes, he says.
MethoCAD's modular-based system also covers tower crane planning, with features to ensure safe loading and avoid clashes by checking the minimum clearances between cranes. This can be particularly complex on sites with many cranes. "It can't be managed without software," he says.
The MethoCAD system contains modules for planning all types of site operations so that potential problems are identified before construction starts. Creative Business Solutions is celebrating the 20th anniversary of MethoCAD this year and the mobile crane tool brings the total number of modules to a very appropriate 20.
The new modules join others which cover aspects of site preparation such as layout, 3D site modelling, formwork planning, tower cranes and site safety. MethoCAD has also recently added a module to help sites achieve high environmental standards in areas such as recycling materials, avoiding ground pollution and minimizing traffic disruption to neighbours.
Issued on behalf of MéthoCAD
by Joem Promotions