The Terex® CR300L Series Pavers Are the Economical Choice for Asphalt Contractors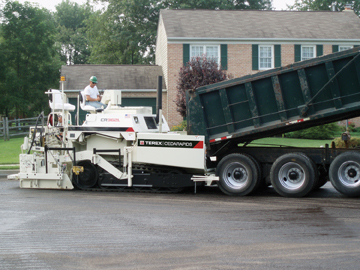 The Terex® CR300L Series asphalt pavers from Terex Roadbuilding deliver the optimum balance of power, size and weight, so they can be used in a variety of applications from small parking lots and pavement overlays to development streets and county highways.
The 2,4 m wide CR300L Series come with either rubber tire (CR352L), rubber track (CR362L) or steel track (CR362SL) drive systems to meet customer preference.
The series' fully electronic, Tier-3- and Stage-IIIA-compliant diesel engine develops 160 hp and features an electronic governor.
With the CR352L boasting the largest drive tire in its class and the entire series incorporating the same Sauer-Danfoss 90 Series propel pumps found on larger Terex® pavers, the CR300L Series delivers maximum traction for the most demanding applications. The rubber track CR362L features the Terex-exclusive Smartrac™ System that automatically maintains proper track tensioning at all times, significantly extending service life for lower operating costs.
While similar class pavers offer a fixed rear suspension that compromises mat smoothness, the CR300L Series pavers lay higher quality mats through their exclusive Three-Point Suspension System, which essentially floats the paver over subbase irregularities to maintain preset screed slope and grade. The series also includes the patented Frame Raise System, which raises and lowers the rear of the paver, allowing the operator to fine-tune the head of material at the spreading augers to improved mat quality.
All CR300L Series pavers feature a 9 t hopper capacity. The hopper length offers ample tailgate clearance for end-dump trucks, enabling more efficient truck unloading. Asphalt mix is channeled from the hopper to the spread augers by the same heavy-duty chain, sprocket and slat bar delivery system found on the Terex® CR400 and CR500 Series mainline pavers to minimize wear costs.
Three screed designs can be attached to the CR300L Series pavers. Offering electric or fuel-oil heat, the Stretch 16® rear extension screed delivers hydraulically extendible widths from 2,4 to 4,9 m and paving widths to 5,4 m with extensions. Featuring front-mounted extensions for quick width changes, the electric VersaScreed Series offers hydraulically extendible paving widths. The fixed width 2,4 m Fastach offers a variety of pin-lock extension segments to deliver paving widths from 2,4 to 5,4 m.
Source: Terex Corporation