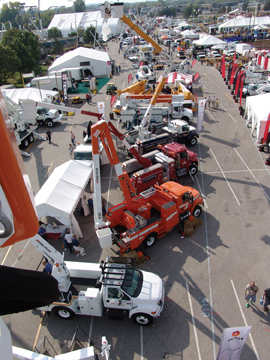 ICUEE Honored by Trade Show Industry
The International Construction and Utility Equipment Exposition (ICUEE) was recently ranked as the second largest show of any industry in the United States in 2009, according to the annual "Gold 100" list of Trade Show Executive magazine. The magazine noted that shows on the list "have set the Gold Standard for the exposition industry."
ICUEE 2009 covered 93 000 m3 of exhibit space and was topped only by the 2009 International Consumer Electronics Show (CES). ICUEE 2009 attracted more than 16 500 registrants, second largest in its history despite a down economy.
Planning is well under way for the next ICUEE, to be held October 4-6, 2011 at the Kentucky Exposition Center in Louisville, Kentucky. Show organizers say industry partnerships are key to ICUEE's continued success.
ICUEE 2011 will again feature the co-location of the H2O-XPO show of the National Rural Water Association (NRWA) and the NRWA annual convention, as well as co-location of the Incident Prevention (iP) Safety Conference and Expo. ICUEE education will include the co-located program of Underground Construction Technology (UCT), in addition to NRWA and iP education. Leading industry associations will promote the show to their memberships as official "supporting organizations".
Association of Equipment Manufacturers (AEM) shows are "industry-run" meaning that participants have a "voice" in show planning, costs are carefully monitored, and revenues go back into services for the members and the industry.
Source: Association of Equipment Manufacturers