New Breaker Ventilation for Tunnelling Applications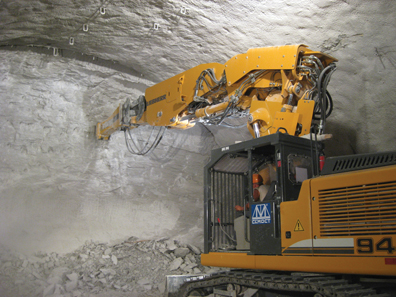 At Bauma 2010 Atlas Copco launches a new carrier-integrated breaker ventilation system for tunneling applications. The ventilation system that delivers additional air is easy to install and minimizes the risk of extensive wear on hydraulic breakers.
Atlas Copco hydraulic breakers are suitable for tunnel heading, scaling, extension and demolition work. When working underground, abrasive dust in the air can enter the percussion chamber, the oil circuit between the attachment and the carrier can become contaminated, and rust can form on the piston from water sprinkling on the breaker. All these factors can cause considerable wear on the breaker.
To avoid these problems, an additional air source can be supplied by means of a carrier-integrated breaker ventilation. The system is easy to install by a simple hydraulic connection to the breaker installation of the carrier, while the electronic system of the carrier is not touched. The new breaker ventilation requires no separate ground space, and no extra person is needed for the air hose. It is synchronized with the hydraulic breaker and operates without emissions.
The breaker ventilation system is available for Atlas Copco breakers of the 1000 – 4200 kg class.
Source: Atlas Copco