P.A.M. Takes On a New Challenge
Lindsay Morrison, RNP Industries Inc.
Contractor: Commonwealth Dynamics
Special Collaboration
---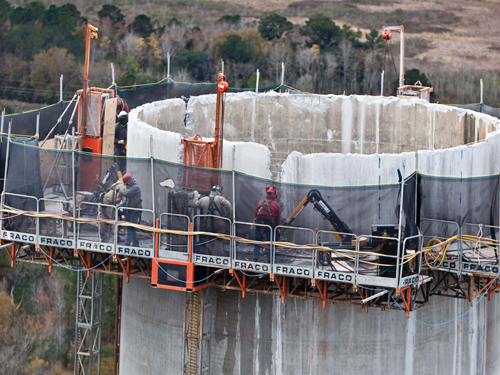 RNP Industries Inc. of Boisbriand, Quebec, has taken on a new market. RNP designed and manufactures the P.A.M. – an acronym for Positioner, Actuator, and Manipulator.
The P.A.M. is a semi-automatic tool holder; historically it has been used in the concrete rehabilitation and restoration business. The unit was designed for and succeeds at reworking spalled concrete. The tool's weight is taken and balanced by the P.A.M. not the operator. With a P.A.M., a worker no longer has to suffer through the agonizing job of chipping and cleaning behind rebar by using a handheld pneumatic tool or hydro demolition lance – the weight of a 16 kg "rivet buster" or water lance becomes unbearable in a short time. Working with a P.A.M. a worker can go through a full shift without having to drop the hammer and take frequent breaks due to physical fatigue.
With the P.A.M., torn rotators in the shoulder as well as back pain, white finger, carpal tunnel syndrome, are a thing of the past. The P.A.M. was originally designed to address these physical problems associated with running pneumatic tools, and it has. A unforeseen side effect is that the worker can triple production over the traditional hand held method on overhead and vertical work. This ability to speed up production has made the P.A.M. a great success in the rework of parking garages, bridges, and other infrastructure jobs. The P.A.M. is perfectly capable to take on rock drills, hydro demolition water lances as well as the traditional air hammers and we are willing looking at any new application that comes forward.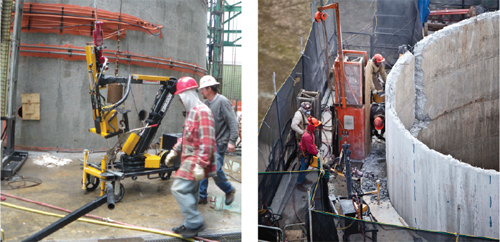 The new challenge is demolition
We were approached by one of our distributors about a demolition project in the United States. They had a customer that was looking to demolish a 120 m (400 ft) chimney. Usually it is just knocked down then cleaned up. This was different as they had to knock the stack down by cutting it into large blocks and knocking them into the middle of the chimney. No debris could fall outside the structure as this project was on a working power plant and the plant had to keep supplying power to its customers. The chimney was also right in the middle of the power plant. So great care had to be taken, they couldn't have concrete blocks falling on to other buildings.
The general contractor, Commonwealth Dynamics, Inc. of Portsmouth, New Hampshire, looked at a number of scenarios and the one they decided on was with the P.A.M. and mast climber systems. Due to the lightness of the P.A.M they were able to put four P.A.M. systems to work on the chimney. Commonwealth Dynamics used the four machines to great advantage. The project came in days ahead of schedule. They doubled previously expected numbers. They used less people and got more production from the people there.
"After testing the units for safety and productivity, Commonwealth put them into service on a large concrete demolition project. We have been very pleased with the added degree of safety these units bring to a demolition project. There is also a substantial increase in the productivity. The units are easy to move, easy to set up and have very little down time to date. Commonwealth is very satisfied with the P.A.M. units provided by RNP and with the follow up and service," says Jim Fleming, IMR division manager at Commonwealth Dynamics, Inc.
"RNP does not sit still. We are always looking for new opportunities to put our technology to work", says Danny Morissette, vice president at RNP Industries Inc. "We are already looking at using our system in other new areas to make things easier for the worker and less costly for the general contractor."
"P.A.M. units are at work in parking garages, on bridges and other infrastructure projects all over North America. The return on investment is often so clearly evident at a demonstration that we've had customers stop us early to say: 'Stop the demo it works. I'll write the check'. Once they see it at work they understand in short order how much money and time can be saved. They know they need it now", adds Mr. Morrissette.