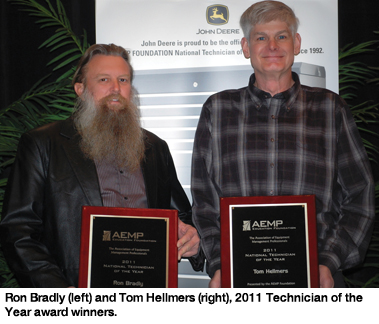 2011 National Technician of the Year
AEMP (Association of Equipment Management Professionals), the premier organization for asset management professionals of off-road fleets, recently recognized two industry professionals with the annual National Technician of the Year award. The honor has been awarded by AEMP since 1989, and recognizes technicians in both the private and public sectors. This year's private sector winner was Tom Hellmers from Murphy Tractors and Equipment, Omaha, Nebraska, while Ron Bradly of Sarasota County Fleet Services Department, Sarasota, Florida took home the public sector award.
Presented through the AEMP Foundation, the National Technician of the Year award is given in recognition of clearly demonstrated professionalism, technical skills, innovative trouble-shooting and diagnostic capabilities, as well as exceptional contributions made to the equipment technician profession. While the award is intended to positively impact the career of its recipients, the ultimate goal is to advance and bring awareness to the technician vocation.
Tom Hellmers is a 48-year veteran of the industry, boasting several professional certifications and achievements. His skill and intuitive nature with technology from several makes, models and lines of equipment has earned him certificates through many different OEMs. In total, he holds more than 60 certificates, ranging in achievement from electrical diagnostics to hydraulic systems. He has also proven himself as a highly innovative technician, having designed and built tools to improve repair processes on several occasions. Over the past few decades, Mr. Hellmers has developed excellent customer relations with state, county, city and private fleet managers. Through these relationships, he has created strong customer loyalty to Murphy Tractor, and widespread recognition of his reputation as an excellent technician and individual.
The 2011 public sector Technician of the Year Award recipient, Ron Bradly, has been with Sarasota Fleet Services for more than 30 years. His position, Heavy Truck/Equipment Technician II is among the most desired positions in the industry and representative of only the most elite technicians. Additionally, he currently holds two EVT certificates and six Master Mechanic ASE certificates, an impressive honor that very few technicians in the world can claim. Mr. Bradly is dedicated to continuing education and higher learning, and sharing his passion with co-workers and next-generation technicians through his time spent training and guiding others. Further demonstrating his commitment to education, he recently developed and presented an introductory learning course as a joint venture with the Sarasota Vocational Institute. The course, titled "Introduction to Automotive Systems", was made available for Venice, Florida, High School students.