The R Evolution Family Keeps Growing
After bauma 2010 where the R Evolution R 35 (3,5 m3) was launched, D'Avino mixers is pleased to announce the launch of the R Evolution R 40. The new machine was officially presented at the last SAMOTER show in Verona, Italy, on March 2, 2011, and now available for sale within our dealer's network.
With these new machines, D'Avino has rethought the concept of the Self-Loading Concrete Mixers with operator's safety and comfort in mind.
The cabin moves with the drum as it pivots to give the operator an unbeatable visibility during loading of raw materials or placing concrete. This enables the operator to manage and control all operations by himself, in complete safety.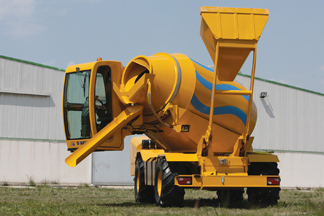 D'Avino started making self-loading compact concrete mixers in 1975. They are produced in four sizes from 1,0 to 4,0 m3.
Numerous accessories can make a D'Avino mixer even more usable. The exclusive DAS–Davino Advanced System weighing system, for example, turns your D'Avino mixer into an accurate and reliable mobile concrete plant thanks to the ultimate chemical additives control system
Source: AMOG S.r.L.