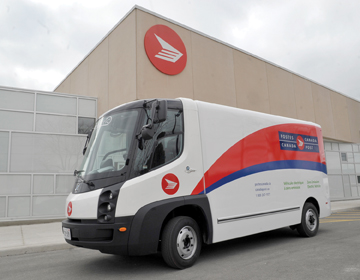 Canada Post Adds Navistar's
eStar™ All-Electric Trucks to its Fleet
Canada Post recently added the first all-electric step vans in Canada to its fleet. The corporation showcased the first of four all-electric commercial vehicles built by Navistar Inc. The eStar™, a Class 2c-3 electric truck and the first in its category, has a range of 160 km per charge and can be fully recharged within 6 to 8 hr.
With zero tailpipe emissions, each eStar™ truck can reduce greenhouse gas emissions by as much as 10 t/y. The windshield design provides nearly 180° visibility, the low-floor design allows easy loading/unloading and the noise level is nearly nonexistent.
Unlike other electric trucks that are reconfigured models of fossil-fuel trucks, the eStar™ truck has been purpose-built for electric power, providing a competitive advantage with a low center of gravity (the battery is between the frame rails, not mounted on top) and a 11 m turning radius. The eStar™ is engineered with superior aerodynamics, a walk-though cab and a quick-change cassette-type battery that can be swapped out in 20 min, enabling around the clock operation. It is capable of carrying payloads up to 2 t.
"For businesses, municipalities and other organizations that demonstrate their environmental commitment, the eStar™ is a smart option," said Mark Aubry, vice president sales and marketing, electric vehicles, Navistar. "The eStar™ is enabling responsible customers who strive to have a positive impact on the environment through energy efficiency."
Canada Post has the largest delivery fleet in Canada – over 7,300 vehicles traveling more than 79 million km/y. The company has made investments in researching and testing alternative technologies including ethanol, biodiesel, natural gas, propane, hydrogen, hybrids as well as electric vehicles to reduce the environmental impact of its fleet.
The eStar™ is sold at the Western International dealership in Toronto and in partnership with Kemptville International in Ottawa.