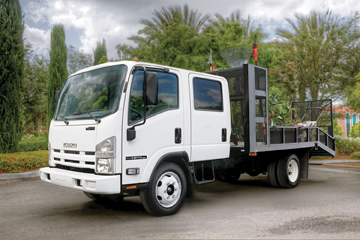 Isuzu N-Series Gasoline Trucks Return as Full Production Begins
Isuzu Commercial Truck of America, Inc announced recently that full production of gasoline-powered Isuzu N-Series trucks has begun at the Spartan Motors, Inc., facility in Charlotte, Michigan.
This marks the first time in two years that gasoline-powered N-Series trucks have been offered by Isuzu. Previously, N-Series gasoline trucks had been assembled by General Motors at its plant in Janesville, Wisconsin. That facility ceased operations in 2009.
The new 2012 N-Gas models, which complement the popular diesel-powered Isuzu N-Series trucks
already available, are powered by the Vortec 6.0 l V8 engine that produces 297 hp at 4,300 rpm and 372 lb ft of torque at 4,000 rpm. The powerplant is mated to a new six-speed automatic transmission with double overdrive and lock-up torque converter for enhanced fuel economy and performance.
The gasoline-powered trucks will be available in Isuzu dealerships nationwide beginning this month.
Source: Isuzu Commercial Truck of America, Inc.