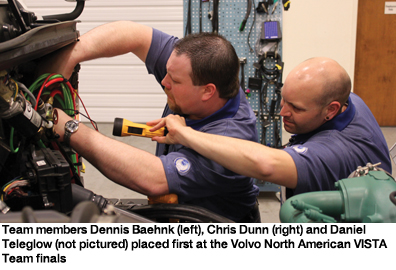 2011 VISTA Competition Recognizes Canadians Truck Technicians
Service technicians from Beaver Truck Centre in Winnipeg, Manitoba captured first place at the 2011 Volvo Trucks North American VISTA competition.
The hands-on team competition, highlighting technician excellence, helps participants hone their skills while determining the top dealer service personnel.
Members of the winning team – Dennis Baehnk, Chris Dunn and Daniel Teleglow – will compete at the VISTA World final in Gothenburg, Sweden during the last week of June. This was the second time this team has won the Volvo VISTA Team competition in North America; their first win was in 2007.
A total of 120 three person teams from Volvo dealers across North America competed in the latest VISTA team challenge, which began last October. Participation in the biennial event requires a significant dedication of time and effort as participants work through three rounds of competition involving online technical questions. Three teams of finalists traveled to Greensboro, North Carolina, for the final round. All the answers for the written questions are contained in Volvo service and parts literature, and the finalists were tested on their knowledge of service bulletins and ability to look up parts and service information within the Volvo system. There was also a strong hands-on element to the competition, where the contestants had to troubleshoot pre-determined faults placed on two Volvo trucks and a Volvo D13 engine.
The biennial VISTA competition began as a national event in Scandinavia in 1957, and expanded to global event in 1977. Volvo has seen a strong correlation between dealers with teams in the final round and high customer satisfaction indexes. This has been linked to dealer leadership and willingness to invest in personnel and competence development.
Source: Volvo Trucks North America