Hoover Dam Bypass Named 2012 Outstanding Civil Engineering Project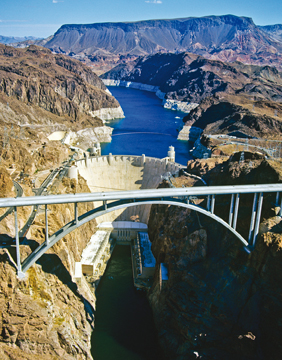 At nearly 275 m above the Colorado River and 580 m long, the Hoover Dam Bypass helps to protect the security of the Dam by removing through traffic from US 93, thus reducing the vulnerability to a terrorist attack and also helps to protect the most sustainable source of electricity and a scarce water supply for the entire Southwest.
In recognition of the challenges to build such a structure in a difficult environment, the Hoover Dam Bypass Bridge was recently honored with the American Society of Civil Engineer's (ASCE) 2012 Outstanding Civil Engineering Achievement (OCEA) award. The announcement was made at the Renaissance Capital View Hotel in Arlington, Virginia, during the Society's annual OPAL Gala.
The structure, officially known as the Michael O'Callaghan/Pat Tillman Memorial Bridge, was constructed in a harsh environment. The structure is the highest and longest arch concrete bridge in the Western hemisphere and features the world's tallest concrete columns.
Because of the 245 m gorge below with rock cliffs, steep canyon walls and winds of up to 110 km/h, the contractor used two 760 m long cableways connected to 100 m high towers on each side of the canyon to transport the construction crews and 45 t of equipment and material into place during the construction. Due to the high heat, concrete was poured from mid-air at night and was cooled with liquid nitrogen-filled tubes.
The bridge is part of the 8 km long bypass that consists of four lanes of roadway, eight bridges, interchanges in both Arizona and Nevada and over 2.75 million m3 of shot rock excavation.
Obayashi Corporation and PSM Construction USA were contractors for the bridge while HDR, T.Y. Lin International and Jacobs Engineering were the design and support team. The project is owned by the Arizona Department of Transportation, the Nevada Department of Transportation, the U.S. Bureau of Reclamation, the Western Area Power/Administration and the National Park Service. The Central Federal Lands Highway Division of the Federal Highway Administration was the project and program manager.