Aitik and Goliath: A Volvo FH16's Giant Challenge
In the Bible, the mighty warrior Goliath is described as being "six cubits and a span" tall. But this is nothing compared with the Goliath that rules over the Aitik opencast mine in northern Sweden – a Volvo FH16, which pulls 500 t of copper ore out of the depths of the mountain every day of the year.
To look out over the grey terraces of the immense Aitik opencast mine in the Swedish Arctic is a breathtaking experience. It measures 3 km long, 1.1 km wide, and 425 m deep, and it is still growing.
A recent expansion of the mine included an entirely new way of transporting copper concentrate – a job that is handled by Gällivare Frakt, a logistics firm owned by Ingemar and Kurt Nilsson. To manage this mammoth task, the company invested in Goliath – a custom-built 540 hp Volvo FH16. Fully loaded, Goliath weighs in at 144 t.
Gällivare Frakt transports all the copper concentrate mined in Aitik, which means every day Goliath carries 500 t between the dressing plant and the terminal. From that raw material, about 46,000 t of copper are produced per year. In addition, Goliath transports about 25 t of silver and 1.3 t of gold annually.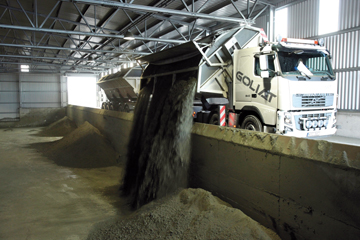 Goliath's daily route is an 8 km stretch between the dressing plant and the terminal where the copper concentrate is unloaded. Gustav Nilsson, the truck driver, weighs the empty vehicle then drives into the long, narrow corridor where the copper concentrate is loaded. The hatches on the wagons are opened and the copper concentrate pours into the truck from above. Controlling the truck remotely, the driver moves the vehicle to distribute the load evenly. "It's incredibly smooth – a bit like a computer game," he says with a smile.
Loading completed, he returns to his cab, places his hand on the I-Shift control lever, and starts the vehicle. Leaning back in the driver's seat, he explains how simple his job has become with the new truck and facilities. "You hardly feel you're carrying 100 t. The road is wide and it's only us using this route," he says.
Working in the Aitik mine is not always pleasant, however, as the dressing plant is exposed to the biting Arctic winds.
To unload, Gustav drives the truck into the depot, folds down the support legs, and tips out the load, first from the trailer and then the truck. Powerful vibrators then shake out every last bit of the copper concentrate.
The mine and dressing plant started operating in 1968. Aitik is Europe's largest opencast mine, and one of Europe's largest copper mines. It is also a large producer of gold and silver.
Source: Volvo Trucks