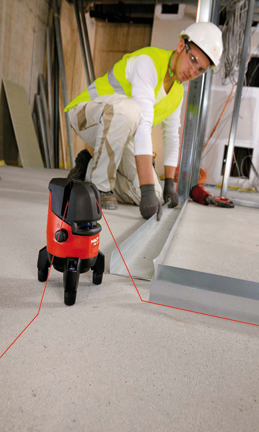 Fast & Accurate Squaring and Aligning
Precision, accuracy and versatility – the Hilti PM 4-M Multi Line Laser takes leveling, plumbing and aligning applications to the next level. The PM 4-M features two vertical lines and one horizontal line for maximum versatility for leveling or aligning applications such as leveling outlets, cable trays, pipes, suspended ceiling, aligning doors and windows and when transferring points or installing partition walls.
The PM 4-M makes these applications easy and fast because it rotates around the center point and has a fine-tuning knob for precise alignment. Add to that Hilti Pulse Power™ technology to produce highly visible beams and contractors have an accurate squaring and aligning tool.
Because these types of tools take a beating on a jobsite, the PM 4-M has a rubberized tool body to help protect the laser aperture and tool edges for increased durability along with a locking pendulum mechanism for added protection.
The PM 4-M is covered by Hilti's Lifetime Service, a unique service agreement that includes two years of no-cost coverage* and one free calibration per year for the first two years to help ensure reliability and accuracy.
*Some limitations apply. Contact Hilti for details
Source: Hilti, Inc.