Western Star Introduces 4700SB All-Wheel Drive Model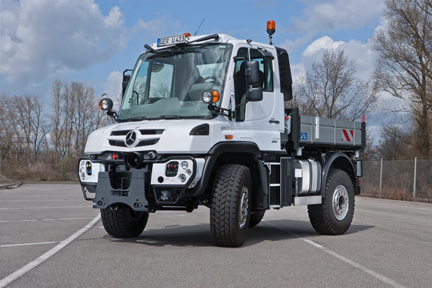 Mercedes-Benz Special Trucks recently celebrated the world premiere of a ten-model Unimog lineup (U216 to U 5024) as well as of several two and three-axle variants of the low-entry Econic special-purpose vehicle. As a result, the era of Euro VI-compliant engines is now also being ushered in for special trucks. The new vehicles will begin to roll off the assembly line in Wörth in September.
Mercedes-Benz Special Trucks did everything it could to build on the proven model series' success and further strengthen its pioneering role in the area of environmentally-friendly trucks. To do this, the brand invested around €135 million ($180 million) in three completely new and unique vehicle concepts for its Euro VI-compliant product range.
The four and six-cylinder engines have outputs ranging from 156 hp to 354 hp. They combine low fuel consumption with extremely clean exhausts and make the Unimog more efficient overall. And in the Econic, the engines even reduce fuel consumption by up to 4%.
In addition to new engines for all model series, the Unimog all-terrain vehicle boasts a revamped mid-engine concept, and the Unimog implement carrier features a new synergistic traveling drive, an updated cab providing all-round visibility, and new hydraulic systems for implements and performance that make the vehicle significantly more efficient to use.
Source: Mercedes-Benz Special Trucks