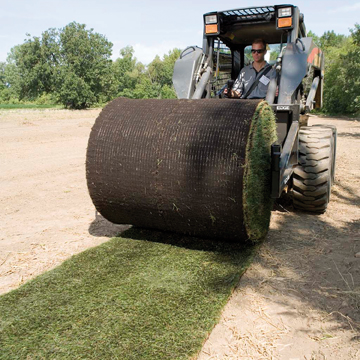 New EDGE® Sod Unroller Attachment
CEAttachments, Inc. announces a new re-designed EDGE Sod Unroller attachment for skid steers and track loaders.
The new EDGE Sod Unroller attachment has an enhanced, more cost-effective design that provides for more efficient operation and performance, saving landscape professionals time and money in labor.
The new EDGE Sod Unroller features an improved bracket design, providing easier roll installation and more effective operation.
The EDGE Sod Unroller is the perfect attachment for any landscape professional to easily lay rolls of sod in forward or reverse motion quickly and precisely.
Strong tubular frames handle rolls of sod up to 122 cm wide and up to 152 cm in diameter.
This simple, economical design requires no hydraulics and uses fiber or plastic cored rolls of sod.
CEAttachments is a full service international wholesale distributor of attachments and accessories for all brands and models of compact equipment including skid steers and track loaders, compact excavators and compact utility tractors.
Source: CEAttachments, Inc.