British Gas Buys 100 e-NV200 Nissan Electric Vans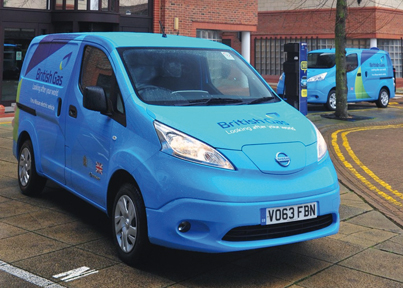 Following a successful 6-month winter trial of Nissan's fully-electric e-NV200 van, British Gas has decided to place an immediate order for 50 vans, with a further 50 to be delivered later this year. British Gas announced the order for the 100 Nissan e-NV200 models recently at the 2014 CV Show at the NEC in Birmingham, England.
The trial period covered an unusually harsh winter, usually the achilles heel of any electric vehicle. But the Japanese automaker's powertrain, which is borrowed from the Leaf EV, proved up to the job.
The order furthers British Gas' ambition to electrify at least 10% of its 13,000-strong home service van fleet by 2017. Fifty e-NV200 models are due to join the British Gas fleet immediately, with the remaining 50 arriving by December.
The e-NV200, which borrows a lot of technology from the Nissan Leaf, can cover 170 km on a single charge, with an 80% rejuice of the lithium-ion unit possible in 30 minutes from a 50 kW fast charger. A 6.6 kW/32 A outlet can pump out a complete recharge in 4 hours. Top speed is capped at 120 km/h to preserve the van's range.
Many models sacrifice boot and/or passenger space to the chunky battery and electric motor required to make zero-emission motoring possible but the e-NV200's payload and cargo area is the same as in the "normal" NV200 (739 kg / 4.2 m3).
The Nissan e-NV200 goes on sale this June in Europe.
Source: British Gas