Compact Spiral™ Hose's Benefits Explained In Video Series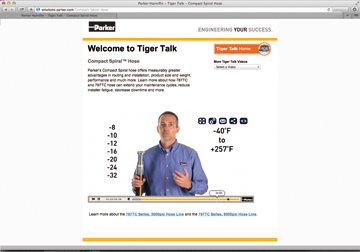 The second episode of Parker Hannifin's new Tiger Talk video series provides industry professionals with an in-depth explanation of the company's Compact Spiral™ hose.
Parker Hannifin's Hose Products Division developed the Tiger Talk video series as a simple and convenient online video resource for industry professionals looking to learn more about fluid conveyance technology and the products they rely on every day.
"Tiger Talk gives consumers pertinent product information to help them make informed business decisions," said Doug Honig, Marketing Services manager, Parker Hannifin Hose Products Division. "These videos were made to give consumers brief, simple and easily accessible insight into a complex industry."
In just a few minutes, Parker's Compact Spiral hose episode provides a detailed explanation of the company's 787TC and 797TC for 5,000 and 6,000 psi applications.
This episode covers:
How Compact Spiral hose was created using proprietary technologies
How Compact Spiral hose is different from alternative products
How Compact Spiral hose's value benefits OEMs
How Compact Spiral hose extends service life
In addition, this Tiger Talk episode explains pressure ratings, routing ease, abrasion resistance, bend radius, reduced force to flex, reduced hose weight, and more about how Compact Spiral™ hose can provide benefits to customers' applications.
Source: Parker Hannifin

Watch a video: