Bauma is Ideal Platform for Firestone Industrial Products
to Showcase Air Spring and Marsh Mellow™ Spring Solutions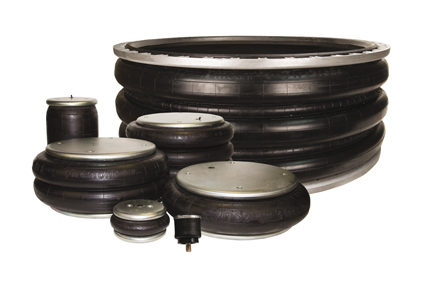 Firestone Industrial Products Company, LLC (FSIP) showcased its Airstroke™ and Airmount™ air springs, as well as its Marsh Mellow™ springs at Bauma, last April in Munich, Germany.
"Firestone Industrial Products offers more than air springs for the transportation industry. Our rugged, reliable products provide a variety of durable, innovative solutions for the construction and mining industries as well," said Mary Kay Bryja, division marketing manager, FSIP. "Often our air springs are a superior alternative to pneumatic or hydraulic cylinders or coil springs, and their unique capabilities make them ideal for friction-free, leak-free, flexible-force applications."
Firestone Industrial air springs have many applications within the construction and mining industries, such as conveying, material handling, concrete form production equipment and sorting applications. Attendees at the world's leading construction machinery fair had the opportunity to meet with application engineers to discuss the company's vibration-isolation, and pneumatic- and hydraulic-application product solutions.
"Bauma connects us with leaders in the mining and construction industry and allows us to showcase our expansive product capabilities with these key audiences," added Ms. Bryja.