JCB Donates Backhoe Loader to Help Quake-Hit Ecuador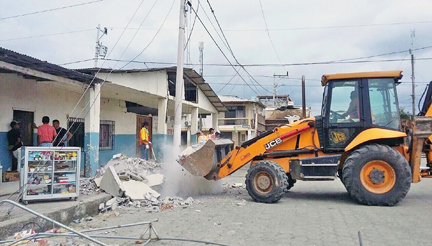 JCB is donating a 3CX backhoe loader worth $120,000 to help rescue and clean-up operations in Ecuador, which was hit by a 7.8 magnitude earthquake on April 16, resulting in the deaths of at least 570 people and injuries to over 7,000 people. It has been reported that 25,000 people remain in shelters as a consequence of the devastating earthquake that has been described by the country's president Rafael Correa as the biggest tragedy in Ecuador in 7 decades.
JCB is supplying the versatile 3CX backhoe to the Provincial Council of Manabi through its Ecuadorian dealer, Automekano. The machine will be put to work shortly in the province's Pedernales Canton, where more than 90% of homes have been destroyed by the earthquake.
"Padernales was very close to the epicenter," said Santiago Vasconez, managing director of Automekano. "Many people are feared to have lost their lives, and many thousands have been left homeless by the destruction. There is a desperate need for equipment to help relief efforts."
"This was a very powerful earthquake with catastrophic consequences," said JCB Chairman Lord Bamford. "I hope our donation can play a small part in the clean-up and rebuilding work that needs to be done in Manabi to help those people whose lives have been turned upside down."
JCB has a history of helping countries affected by major natural disasters and has in recent years made equipment available to support relief and rebuilding efforts after earthquakes in Nepal, Indonesia, Chile, Pakistan and Haiti, and in the Philippines in the aftermath of Typhoon Haiyan.
JCB is the world's 3rd largest manufacturer of construction equipment by volume. The company's headquarters are in the UK, where 11 of its factories are located. Elsewhere in the world, JCB has factories in India, Brazil, China and the U.S.
Source: JCB