Shear Power Reaches New Heights with Custom Builds


Shear Power Corp. may be a relatively new name to the business, but with years of experience behind them, they are tackling the high-reach demolition, material handling, recycling and specialty attachments industry with commitment and motivation. Every team member brings a unique perspective and skillset to each project.
The company, which sells Genesis attachments, Xcentric rippers and crushers, MGM hammers and more, is presently the only producer of high reach demolition units in Canada. Complete customer satisfaction with every deal is the ultimate goal, which makes Shear Power Corp. of London, Ontario the company to deal with in North America for demolition equipment.
The company is currently building a customized high reach excavator, which is the second the company has constructed from the ground up. "We custom build to suit the customer's requirements and beyond, from any base machine they prefer," says vice president of Product Support, Greg Morley. This gives Shear Power's products a great advantage above factory built units, as it allows customers to continue existing relationships with their preferred dealer network for the machine's base requirements.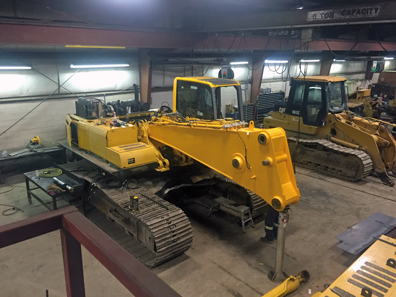 This current project uses a low hour 2011 Komatsu PC450LC-8 with variable gauge undercarriage. The high reach demolition boom is 28 m high, with a quick connect joint for easy transportation. The custom build design from Shear Power Corp. will appeal to customers with its flawless hydraulic circuit design, "Quick Mount" additional counterweight, hydraulic tilting demolition cab, boom angle warning safety device, and remote CCTV camera system with an in-cab LED monitor. Many other options are available with the construction of each new machine, which allows customers the ability to retrofit the equipment with choices specifically suited to their needs.
All carriers are thoroughly inspected, serviced and repaired to surpass requirements and ensure that the project is started with a strong, reliable, work ready excavator before any modifications begin. "Using a low hour excavator gives end users a great advantage by lowering their overall investment to get the reliable machine they truly want and need at 30-50% less than a new piece," says Greg Morley.
The company is constructing these custom built machines to dominate the industry by surpassing standards, and providing customers with superior products, options, and support with warranty as well as an affordable price.
Source: Shear Power Corp.