T4f Terex® TC85 Compact Excavator Now Available in North America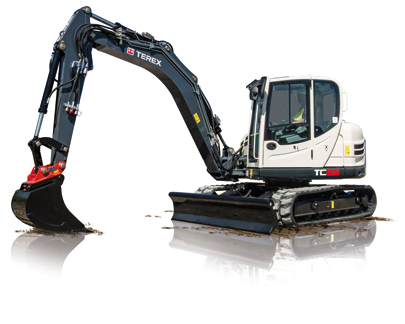 The new Terex® TC85 compact crawler excavator is built for demanding excavation jobs and space-restrictive trenching work, featuring the perfect combination of a short radius tail-swing and a Knickmatic® boom offset that allows operators to dig alongside the machine's own tracks. Weighing 8,200 kg, the TC85 excavator boasts bucket capacities from 0.87 - 0.3 m3, a dig depth of 4.52 m, a bucket digging force of 53.2 kN and a reach of 7.72 m.
This new model's deep digging capability makes it an ideal machine for landscaping, general construction, water and sewer, electric and utility, as well as municipal applications. Three track options are available for this machine: Rubber (standard), Steel and Steel with Rubber Pads, allowing contractors to match their machine to their applications.
Terex engineers have focused on bringing compact excavators to market that has a high power-to-weight ratio, which equals an increase in capabilities in a smaller-sized machine. Featuring a Tier 4 final 75 hp Deutz diesel, the new TC85 excavator meets emissions requirements through a diesel oxidation catalyst (DOC), which serves the function of a catalytic converter. This translates to a reduced maintenance exhaust system as there is no need for regeneration or to inject diesel exhaust fluid (DEF). Auto engine stop comes standard on this excavator, which helps operators realize fuel savings. Additional fuel savings can be achieved through the optional auto engine idle feature.
This Terex excavator is engineered with a dual-circuit hydraulics system with load-independent flow distribution (LUDV) to allow all functions to be controlled simultaneously and independently of each other. The system has been sensitively tuned to control all functions at all engine speeds, independently of the load. The structural design of this compact excavator also complements the efficiency of its hydraulic systems. For example, the TC85 model is designed with a low center of gravity so that the weight is evenly distributed. A balanced machine enables the operator to quickly change operation speed without the machine bouncing around.
The TC85 excavator can work closely alongside walls and other existing infrastructures thanks to its Knickmatic boom. The articulated joint on the boom of this Terex compact excavator allows the machine to be moved to either side at full digging depth. With an articulation angle up to 120° in total, work can be carried out on the narrowest construction sites, alongside walls, hedgerows and on sloping terrain. The Knickmatic cylinder is internally located, protecting against collision damage. For increased versatility, 2 boom options are available for this Terex machine: Monobloc (standard) and Circular (optional). The monobloc boom offers operators a staggered boom set-up to give the excavator extra dumping height, range and digging depth. The circular boom is ideal for limited access jobsites, such as inner city construction sites, where space is constrained.
The TC85 excavator is designed around the operator, including a spacious, ergonomic cab that offers high visibility of the jobsite from the operator's seat. It also features a comfortable workstation that comes standard with air conditioning, has a premium seat option and incorporates Terex Fingertip Controls, electric proportional control functions via a roller on the joystick. The short routes on the joystick result in higher precision and operator comfort when working. And with a simple flip of a switch, operators can change from ISO to SAE controls to suit personal operating preference.
Also, the Terex TC85 excavator also comes equipped with Terex Smart Control, an intelligent new operating system. When designing the new system, Terex carefully considered operator comfort, resulting in the introduction of a central control unit that makes it easier to adjust the machine to suit particular applications and operators. A new menu guide — which has the appearance of current smart phones — makes it simple to navigate around the options and information available, while the 178 mm display screen means it is easier to read machine and engine data at a glance.
Design characteristics, such as top-mounted boom cylinders, common in Terex compact excavators are also standard on the new TC85 model. These features offer unparalleled cylinder damage protection.
Source: Terex Corporation