Federal Signal's Environmental Solutions Group
Acquires Westech Vac Systems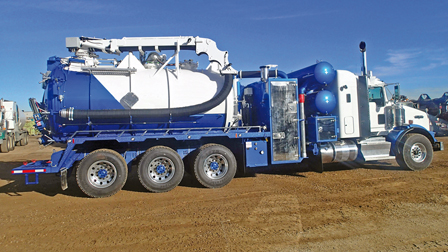 Vactor Manufacturing and parent company Federal Signal Corporation recently announced the acquisition of Westech Vac Systems, Ltd., a leading provider of rugged, high-quality vacuum truck-mounted solutions based in Nisku, Alberta.
The acquisition helps to bring about technology and innovation that can be leveraged by Federal Signal's Environmental Solutions Group in both the U.S. and Canadian markets.
"Westech's commitment to quality products that have lasting value, and its focus on responsive post-sales service, fit Federal Signal's culture and our strategies," said Sam Miceli, senior vice president of Federal Signal's Environmental Solutions Group. "Westech's strong brand will complement the Vactor and Guzzler brands that also make up our Environmental Solutions Group."
Westech is considered one of the largest mobile vacuum tank manufacturers in Canada. For nearly 30 years, Westech has established a reputation for listening to their customers' needs and finding new ways to constantly improve.
Supported by an experienced and knowledgeable team of engineering, sales and service professionals, Westech's products are designed for extreme environmental conditions.
The Vactor and Westech lines of vacuum excavators, which include the Vactor HXX HydroExcavator and the Westech TC407 Hydrovac truck, allow quick access to buried natural gas, petroleum pipelines and water mains, cutting through hardened scale and frozen ground with reduced risk of damage.
Western Canada, where Westech is headquartered, is a tough place to run vacuum excavation equipment. Extreme weather conditions, bad roads, rough terrain, and distant/remote work sites can make an already difficult job even harder.
Source: Federal Signal Corporation