Bergkamp Congratulates Downer EDI Works
for ISSA President's Award



Bergkamp Inc., based in Salina, Kansas, congratulates Downer EDI Works of Somerton, Australia, for its recent distinction of winning the 2017 ISSA (International Slurry Surfacing Association) President's Award for Excellence. This is the first time in more than 10 years that an organization outside of the U.S. has won the prestigious ISSA President's Award, which recognizes contracting achievements that exemplify the highest quality of workmanship and compliance with the best standards of practice, including contract complexity, appearance, schedule completion, customer satisfaction and safety. The award was based on Downer's delivery of the VicRoads state-wide micro surfacing contract, which took place in 2015 and 2016. Bergkamp M1 Self-Propelled Slurry Seal and Micro Surfacing Pavers played a large role in the project.

VicRoads manages the Victorian arterial road network in Victoria, a state in Southeast Australia, which is an integral part of the overall transport system. The VicRoads micro surfacing project consisted of work on all sites for the state government's arterial network, including interstate highways and rural routes. The project spanned across 3 state road authority regions, including 42 separate sites, with completion timelines for each site. It was required to be completed between November 2015 and April 2016.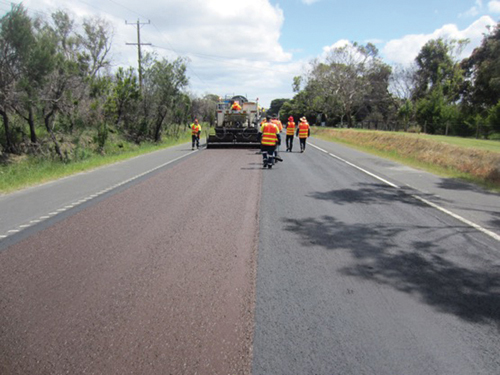 "I would like to acknowledge the support of Bergkamp in this award. The continued support and relationship we have has been instrumental in our success," stated Paul Price, national manager – Pavement Preservation, at Downer.
The M1 micro surfacing paver reduces the number of construction joints by receiving a constant supply of material while the machine is working. Bergkamp's M1 and M1E are the only full-size continuous slurry seal and micro surfacing pavers manufactured in the world. They are ideal for all jobs – from residential streets to mainline paving of interstates – including projects with strict quality requirements.
"This award recognizes some of the strategies we have employed in recent years, with operator training conducted both in Salina, Kansas, and also locally here. Our guys are empowered with knowledge and highly supported when needed, and it is a credit to Bergkamp that we continue this, given the geographical separation. We couldn't be award winners without it!" noted Mr. Price.
Parameters for the VicRoads project included the following:
Application of micro surfacing to improve specified sites' shape and ride quality in predominantly 2-coat applications to correct wheel path deformations (ruts) and ride, using 7mm (Type III) material.
Provision for all required traffic management for works including advance notice of works using variable message boards (3 days prior minimum) and the use of mobile truck-mounted attenuators on specified freeway sites.
Reinstatement of all pavement markings to sites, including audio-tactile line marking, within 5 days, post surfacing.
In addition to the project's general parameters, some sites were located in environmentally/heritage-sensitive and significant areas, for which special provisions had to be made. Also, some existing sites required their excess binder present to be removed prior to overlay using high-pressure water blasting.
ISSA chose Downer for the President's Award, because the VicRoads project met all judgement criteria:
Safety – the project was completed with no recordable safety or environmental incidents.
Completion Date – the project was completed within contractual specified timeframes.
Subcontracting of Works – all Pavement Preservation techniques in relation to this project were completed solely by Downer EDI Works Pty Ltd.
Project Complexity – Geographic separation of sites required multiple mix designs and raw material supply points, project management of multiple suppliers, delivery of all contract requirements for network stakeholder notifications and post-surfacing activities, such as line marking.
The Award was presented to Downer at the Annual Meeting of the Asphalt Emulsion Manufacturers Association, the Asphalt Recycling & Reclaiming Association and the International Slurry Surfacing Association in Tucson, Arizona, last February.
Source: Bergkamp Inc.