A Tight Site at Station Square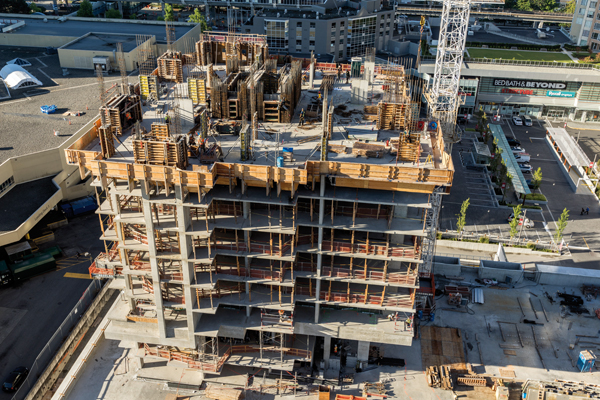 In Burnaby, British Columbia, just outside of Vancouver, Station Square has been designed for the future. The development – to be completed in 3 phases – includes 5 planned multi-use condominium towers (and a pedestrian streetscape) that connect residents to amenities, retail, public plazas and transportation to encourage a cohesive, walkable community. When all 5 towers are completed, Station Square will house 2,000 residences, 13,900 m2 of office space and 30,650 m2 of restaurants, retail and services.

The inaugural tower sold out in 2 days. In 2015, residents moved into that first tower while construction began on the next 2 towers (Phase 2). Scheduled to be completed during spring 2017, the project is currently ahead of schedule, thanks to Doka's preassembled formwork systems that help streamline vertical concrete construction processes.

The biggest challenge has been that, due to site logistics, Two Pillars Construction Ltd. was not permitted to assemble formwork onsite. To accommodate the location's space limitations, the Top 50 large-area formwork system was preassembled at the contractor's yard and shipped to the project site. Using preassembled formwork also sped construction by enabling immediate use of equipment and materials once they arrived.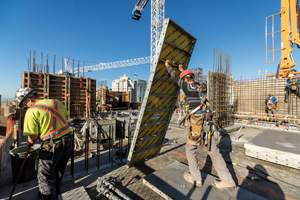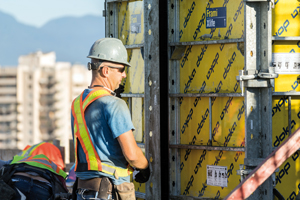 Framax Xlife can be prebuilt offsite and then flown in place with just one crane pick to provide both space and time savings at the site. The contractor owns Frami formwork and has several years of experience using Doka systems. This familiarity with the formwork resulted in the Two Pillars crew working more efficiently, to the point that they are an estimated 3 months ahead of schedule.
Additionally, the Eurex family of adjustable steel formwork props is being used, which features a high load capacity to provide sturdy support on the site.
"After using Doka on several successful projects, it was an easy decision to choose Doka again for Station Square," said Kurtis Masse, superintendent at Two Pillars Construction Ltd. "The versatility of Doka systems allows the most flexibility to meet a variety of applications and situations. The systems are easy to learn and fast to cycle. This increases our productivity."
"We appreciate the high level of expertise provided to us by Doka," added Calvin Knorn, vice president/owner of Two Pillars Construction Ltd. "From the planning stages to project execution, Doka is an important partner for our company."
Source: DOKA