Sweepers Equipped with AI-Based Pavement Assessment Technology Used in Florida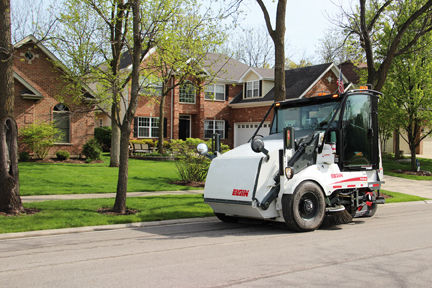 Elgin Sweeper Company has partnered with RoadBotics, Inc. to offer Florida's 400+ municipalities the ability to collect road condition data during sweeping operations, exclusively using Elgin Sweeper street sweepers. The partnership aims to help local government officials managing road maintenance budgets – while facing mounting pressure from citizens to address potholes and other poor road conditions – to make data-driven road improvement decisions.
According to Mike Higgins, vice president and general manager at Elgin Sweeper, the partnership with RoadBotics will enable many of the company's municipal customers across Florida to receive important data about the conditions of their roads as they sweep.
"Our customers in Florida deploy Elgin Sweeper products year-round to keep their streets clean of debris and sand. These sweepers traverse every road of each municipality on a regular basis. By applying RoadBotics' technology, we turn each sweeper into a mobile data collection platform that generates a detailed pavement assessment for our customers' entire road networks. Street sweepers have always been essential tools for improving water and air quality, and with the RoadBotics partnership, our sweepers will now also help Florida communities improve the streets themselves," said Mr. Higgins.
Mark DeSantis, RoadBotics' CEO, described the partnership with Elgin Sweeper as a major step forward in public infrastructure management.
"More than 100 local governments across the U.S. have switched to our AI technology to assess their road networks because they want the reliable and objective condition data our AI platform generates. Typically, a municipality needs to wait for our team of technicians to arrive in their community to complete data collection. Now, a municipality can become a subscriber of our technology and conduct a pavement assessment immediately using Elgin Sweeper's fleet of street sweepers. With this partnership, Elgin Sweeper's products will keep streets clean while simultaneously providing city officials with critical data about the conditions of their roads and infrastructure. It's a win-win," said Mr. DeSantis.
RoadBotics' pavement assessment technology works by mounting a smartphone to the windshield of a vehicle – in this case, a street sweeper. The smartphone collects images of the road surface using the company's proprietary RoadSense app as the vehicle travels the roads.
The data is then analyzed using cutting-edge machine-learning technology, which identifies road surface damage such as potholes and cracks and results in a detailed, meter-by-meter pavement assessment of the entire road network. Government public works officials then use this data to prioritize pavement maintenance in their community.
"Elgin Sweeper is committed to getting smart city technology, like RoadBotics, into the hands of our municipal customers in Florida – to help them achieve their mission to provide safe roads for their residents," said Mike Higgins. "We will be leveraging the knowledge and expertise of Environmental Products Group, our local dealer, to execute this initiative. Roll-out to the broader U.S. is expected to follow initial deployment to Florida."
"With Elgin Sweeper's products collecting data while sweeping, more municipalities will have a transparent view into the condition of their roads, and in the future, much more of their infrastructure," said Mark DeSantis. "Such transparency represents a revolution in the way we are able to provide safer roads and infrastructure for millions of people each day. It's an ambitious goal, but Elgin Sweeper is the ideal partner to make it a reality."
Source: Elgin Sweeper Company