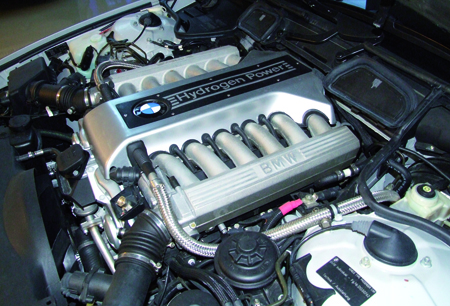 BMW Hydrogen 7
Using hydrogen as a fuel is not new. Mobility generating practically no CO2 emissions is very much a reality – and while fuel-cell vehicles are the mot common, internal combustion engines able to run on both petrol and hydrogen have been produced and used 15 years ago.
The BMW Hydrogen 7 is one of them. It was a hydrogen internal combustion engine vehicle built in limited production from 2005-2007.
Based on the contemporary BMW 7 Series, more specifically the 760Li, it used the same V-12 engine as did the 760i and 760Li. However, it had been modified to run on hydrogen as well as gasoline, making it a bi-fuel engine, similar to vehicles modified to run on propane or natural gas. The car could switch seamlessly between hydrogen and gasoline at the touch of a button on the steering wheel, or automatically when one of the fuels was depleted.
The hydrogen fuel, in liquid form, was stored in a large and highly insulated tank. The V12 engine, rated at 260 hp (similar to the V8-powered 7 Series), was enough to accelerate the 2.3 t limousine from 0 to 100 km/h in 9.5 seconds. The 8 kg hydrogen tank gave an autonomy of about 200 km added to the 480 km provided by the 74 l gasoline fuel tank.
A short run of 100 total vehicles were produced to put their technology to the test. Some of them were used as taxis around Munich airport, where a filling station was constructed. A fleet of 21 BMW Hydrogen 7 were used as official shuttle vehicles at the COP 14 climate change conference in Poznan, Poland back in December 2008.