Gas Liquefaction Plants for Russia
At the end of last year, KAHL Schwerlast & Pieper Schwertransporte was commissioned to move a total of 6 huge heat exchangers for 2 gas liquefaction plants destined for Russia from an engineering works near the port in Haren, on the River Ems in Germany, to the cargo vessel.
Over a period of several months, the individual components had been transported from various production facilities to the Barlage company in Haren. There the components were assembled and the final touches made to the heat exchangers.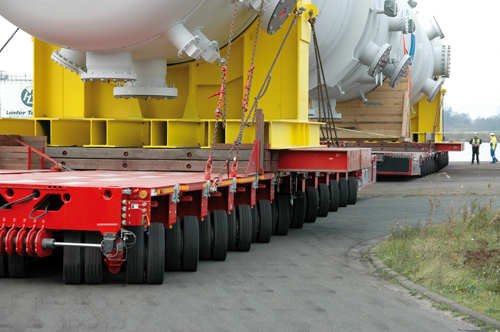 The KAHL Group was then tasked with the heavy haulage operation of moving the heat exchangers from the assembly plant to the quay, where 2 heavy-duty cranes were waiting to lift the heat exchangers onboard the transport vessel.
Although the route was only about 800 m long, the challenges were enormous due to the need to negotiate the confined spaces on the journey all the way round the harbor.
For moving the 658 t cooler, the transport team relied on its trusted heavy-duty modules from Goldhofer in a trailing unit configuration with 2 x 12 PST/SL-E axle lines, picking up the giant cargo hydraulically without the use of a crane. The equipment used for the operation was a P 1+1/2 split combination, with one module divided lengthwise and coupled parallel to a second full module. The advantages of this combination are that it offers appreciably better stability than a single-width transporter and requires less space for maneuvering than a double-width P 1+1 combination.
Publicité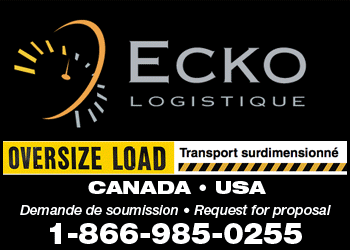 Each 12-axle unit was powered by a 490 hp powerpack. With the load lashed onto the self-propelled transporter combinations, it was quite a feat to negotiate the 90° bends with a total train length of more than 50 m and a load width of 6.43 m. 
Careful maneuvering was necessary to avoid a number of obstacles. With electronic steering on all axles and travel speed at a snail's pace, the experts successfully guided the train through all the narrow sections of the route. 
Handling such transport operations without a turntable (which has the advantage of much greater tilt stability) calls for meticulous preparatory work and lots of experience, something that the tried and tested team at KAHL & Pieper demonstrate on a daily basis. And so, in spite of all the difficulties, the huge cargo reached its destination in good time, and the transport vessel was able to sail on schedule.
Source: Goldhofer AG