The A20 Series PTO Features a New Rotatable Flange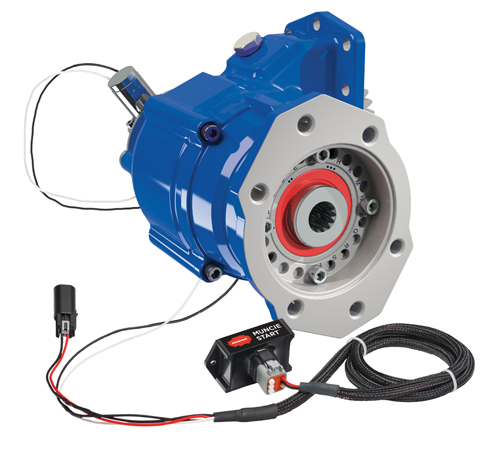 In the world of power take-offs (PTOs), sometimes the smallest change can have a significant impact. The space to install a PTO is crowded and uncomfortable. Oftentimes, the space is too small to easily fit the PTO and hydraulic pump due to frame rail or other components that may cause interference.
Continual mindfulness of the installation process is important to be able to find ways to make it easier on installers as well as add flexibility to what can be mounted to a PTO.
Jim Abbott, product manager, and Kirk Williams, design engineer, wanted to provide customers more flexibility with the pump mounting flange on the PTO. They learned customers often need to rotate the flange to allow mounting of the hydraulic pump and, in the past, this has been a cumbersome task. With this in mind, they developed the concept of allowing customers to order PTOs with the flange set with a specific position, or even ship it loose, so they can easily position it as needed.
This new idea was integrated into the new, robust A20 Series PTO which is designed specifically for applications with an Allison 3000 or 4000 Series transmission. The A20 Series PTO is rated for a single intermittent and continuous torque rating of up to 415 lb ft, and is the ideal PTO solution for Class 7–8 trucks with automatic transmissions. 
While the first priority is developing a robust PTO unit that can withstand the rigors of everyday use and effectively handle applications with higher torque ratings, there is an additional emphasis on the installation process.
"The main benefits are 30 unique mounting positions (every 6°), no disruption of seals or shims during adjustment, and ability to order custom flange positions, or loose," said Mr. Abbott.
The A20 is compatible with the Muncie Start – an electronically-controlled, modulated clutch engagement system that eliminates torque spikes and allows for a smooth engagement of the PTO.
Source: Muncie Power Products