Engcon Launches a Lightweight Pallet Fork for Small Excavators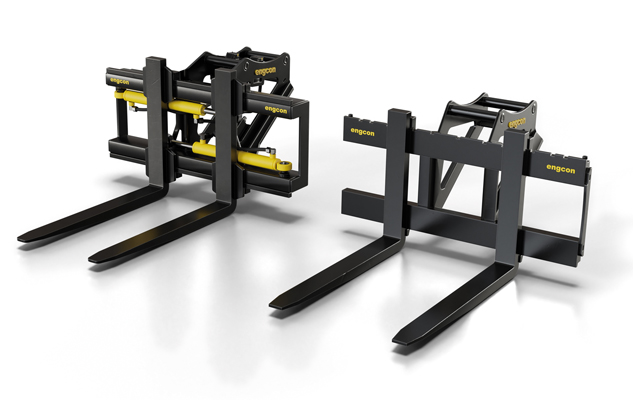 Tiltrotator manufacturer Engcon recently launched a lightweight pallet fork for excavators in the 2-6 t weight class. As a result, the work that can be done by these machines is further expanded, which contributes to increased efficiency and profitability.
With a tiltrotator on the excavator the type of work that can be done increases significantly. With the ability to tilt and rotate the bucket, as well as connecting a variety of attachments under the tiltrotator it makes an excavator a smart tool carrier. Engcon recognizes this and now has one of the market's widest range of tools for excavators 1.5 to 33 t.
The new and lightweight pallet fork comes in 2 versions, one hydraulic and one mechanical and it can handle a load of 2 t of TP500 which means that it is rated for 2 t of load 500 mm out from the back edge of the forks. The weights are calculated at 141 kg for the mechanical and 151 kg for the hydraulic pallet fork and the standard length of the forks is 800 mm.
The hydraulic version is adapted for Engcon's automatic quick hitch system EC-Oil enabling the driver to connect the pallet fork and its hydraulics automatically without stepping out of the cab.
The new lightweight pallet fork will be on display at this year's fairs and events, delivery is expected by the end of the year.
Source: Engcon