FAE USA at the World of Asphalt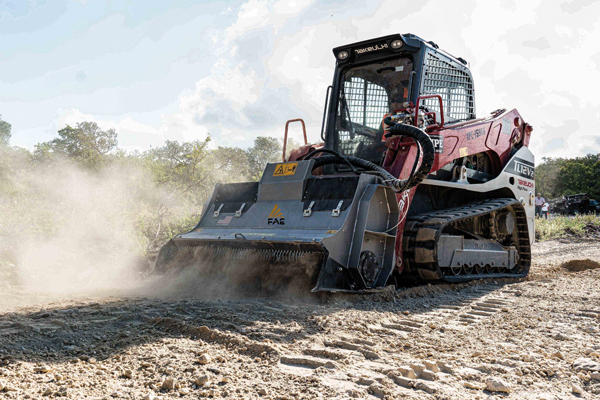 At the 2022 World of Asphalt held in Nashville, Tennessee on March 29-31, FAE was displaying models of top-notch equipment for roadbuilding and soil stabilization.
The FAE STABI/FRS - STABI/FRS/HP is FAE's newest dedicated soil stabilizer for high horsepower PTO tractors. Designed for multiple road construction applications, it is versatile enough to work projects of all sizes with outstanding precision.
The FAE MTL is the light version of the multi task line, which also includes the MTM and MTH machines. They combine the mechanisms of a soil stabilizer, rock grinder, rock crusher and asphalt shredder in one compact, easier to travel machine. The MTL is the lightest PTO unit compatible with a wide range of tractors. It is great for rock crushing and full depth reclamation up to 28 cm deep and ideal for smaller paving and asphalt recycling contractors.
The FAE STC/SSL is a compact and powerful stone crusher for high-flow skid steers that is well known for its outstanding performance and durability. It is currently the only machine of its kind on the market, allowing customers to use their existing machines for a wide range of applications. Main applications include stone crushing for site preparation and concrete recycling for road base construction. Because of its compact size, this unit is commonly used for creating dirt and gravel roads, bike and horse trails, driveways, parking lots, curbs, landscaping and agricultural land reclamation. It is also used for mixing soil stabilizer agents and dry additives into tight spots and angled embankments such as overpasses and levees.
The FAE RC is a rock cutter for excavators that delivers excellent productivity, with low noise and vibrations. It effortlessly crushes rocks and hard surfaces such as bitumen, asphalt and concrete. Most common applications for this attachment include trenching in hard compacted material, profiling of rocky or concrete walls for foundations and tunnels, mountainside excavation for hilly road construction, quarrying and underwater dredging.
Source: FAE USA