GE Aviation Singapore First to Offer Metal Additive for Engine Component Repair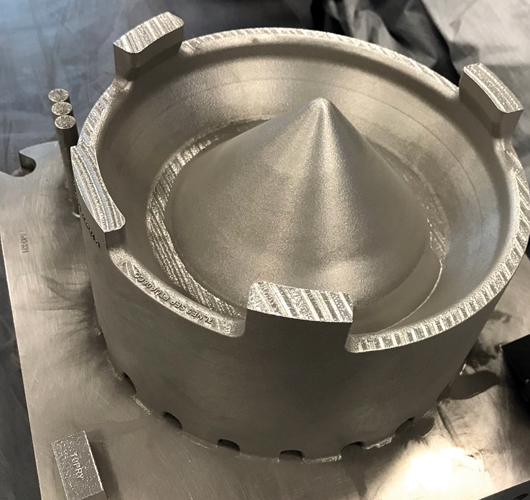 As metal additive technology continues to gain momentum in the design and industrial production of new aerospace components, GE Aviation's Loyang facility is the first maintenance, repair and overhaul (MRO) facility worldwide that has been approved to use metal additive manufacturing for commercial jet engine component repairs.
3D-printed parts are typically printed using STL files generated from CAD drawings. However, this works only for new-make production where the goal is to produce identical parts conforming to the blueprint. When repairing used parts, however, the repair has to be customized for each individual part because each part wears differently during service.
Additive technology in repairs also offers the possibility of embracing complexity, rather than shying away from it. Chen Keng Nam, executive manufacturing leader at GE AESS in Singapore, has also been involved in the metal additive roll-out.
"This disruptive technology can be used for lots of applications, not only in aviation. When I see beyond the realm of repair into new-make, it's mind-blowing to see the parts that we can design and print using additive. Now designers are making use of the ability to produce new designs that could not be imagined or manufactured before with traditional methods," he said.
Additive technology is already used to repair parts in GE Aviation's CF6 engines, the most-reliable and best-selling commercial engine on wide-body aircraft. The next goal is to include parts on the CFM56, the best-selling engine in commercial aviation history.
One example is the repair of high-pressure compressor (HPC) blades that run at high speeds and tight clearances within aircraft engines. They face regular erosion and wear and tear that, over time, demand continuous repair and replacement. Repairing these blade tips used to require a long process of cutting, welding and grinding to create the proper shape.
GE Aviation has established an automated additive manufacturing process to repair the HPC blade tips, saving time and costs associated with labor and machining. The team created image-analysis software that maps the shape of a used blade and creates customized instructions for the Concept Laser M2 machine to build a new tip with precise alignment and profile.
The 3D-printed part is near-net shape and can be finished with minimal additional processing.
Source: GE Additive