Bay Shore Tie-Back Attachment Emphasizes Flexibility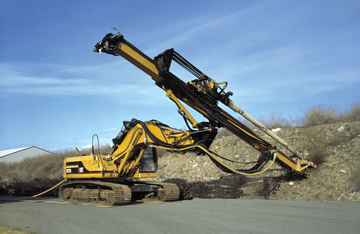 Why buy a dedicated tie-back rig when you can get a tie-back attachment for an existing excavator that can handle all your tie-back jobs and save you money in the process? That's the question Bay Shore Systems would like drilling contractors and other excavator owners to ask.
"The Bay Shore tie-back attachment offers some unique advantages over a dedicated tie-back rig," explained Bay Shore president Herb Minatre. "Since it's excavator based, contractors can get extended use from a retiring or idle excavator and spend less on the attachment. The cost savings over a dedicated tie-back rig are substantial and there is no sacrifice in functionality. It's a win-win situation for contractors."
In addition the Bay Shore tie-back attachment features full-function controls placed conveniently in the cab. Operators can run the full spectrum of tie-back functions from the comfort of the excavator cab instead of outside. This greatly reduces operator fatigue and increases productivity.
The Bay Shore attachment also offers greater flexibility in drilling position. Because it can take full advantage of the excavator's reach and position capabilities, a Bay Shore tie back attachment can easily drill into berms, side walls and other difficult environments.
"The Bay Shore design and manufacturing team can build a tie-back attachment to fit your excavator and your drilling requirements," said Minatre. "We can specifically match the attachment to your drilling environment so you can have a tool designed for your success."
Bay Shore's tie-back attachment is the latest in a long line of best selling foundation drilling equipment. Since 1978, Bay Shore Systems has specialized in the manufacturing of drilling equipment for challenging site conditions. With a variety of products for just about any drilling application, Bay Shore Systems has pioneered the LoDril® product line of limited access drilling attachments. With over 250 LoDrils in place and working throughout North America, Bay Shore is continuing to lead the industry with the development of new and better tools for drilling.
Source: Bay Shore Systems