The AORS Municipal Trade Show in Minden, Ontario
This year, the Association of Ontario Road Supervisors 2005 Municipal Trade Show was held in Minden. It was hosted by the Haliburton County Road Superintendents' Association which was founded in 1989 as a means of sharing ideas, experiences, work load, equipment and tendering for work common to all municipalities within the County.
The County of Haliburton is comprised of four municipalities, which are: the Township of Minden Hills, the Municipality of Dysart et al, the Township of Algonquin Highlands, and the Municipality of Highlands East.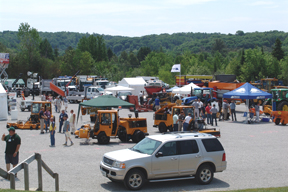 The Haliburton County Road Superintendents' Association is represented primarily by the Road Superintendents of the four municipalities, the County of Haliburton and the Ministry of Transportation. In addition to this core group, membership in the organization consists of consulting engineers, equipment suppliers and material suppliers all of whom ensure a progressive and well informed Association.
The Haliburton County Road Superintendents' Association struggles with shrinking budgets while meeting the challenge of providing a well maintained road network that is safe for the traveling public. To this end, members of the Association meet seven times annually to keep each other abreast of developments whether it is a tender for work or ensuring operations consistency throughout the County.
There are a total of 1260 km of County and municipal roads that require a focused rehabilitation and maintenance program to ensure adequate standards are maintained throughout the County. The County and the Municipalities work together to carry out mutual "core" operations and also employ a wide range of independent contractors for the supply of materials and equipment throughout the construction season.