Teydo's FleetOnline Tracking Solution Launched in North America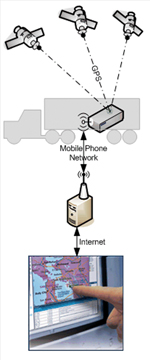 Teydo BV, a global leader in location technology, announced today the availability of its FleetOnline tracking solution throughout North America. With over 12 000 clients in Europe, FleetOnline is built on Teydo's proven MobiSPOT Location aggregation platform that retrieves location information from a multitude of different sources.
FleetOnline's location tracking solution is easy to use - all that is required to start tracking is an online registration. Through www.fleetonline.net clients can purchase Trimble's TrimTrac locator GPS units, choose a subscription level to FleetOnline's wireless network service, and quickly have their own full-service GPS solution to track any asset in North America online.
"FleetOnline gives small businesses all the advantages of enterprise GPS tracking systems without the cost and complexity," said Rob Groot, Teydo's Managing Director, Americas. "In short, FleetOnline can track anything that moves.
"We are already seeing interest in our solution from organizations with mobile workforces, fleet operators and car rental agencies, transportation and construction companies, and security providers - even owners of valuable property such as motorcycles and RVs," said Groot.
The FleetOnline GPS Solution Process:
The TrimTrac locator receives satellite signals from the U.S. Government's GPS satellites and reports its status, position, speed, and direction over any of the four GSM mobile networks in North America (AT&T Wireless, Cingular, T-Mobile and Microcell/Rogers)
FleetOnline's hosted system receives, processes and stores the data. Based on the information in the message, the hosted system executes certain particular functions. FleetOnline's system is Web accessible 24/7 for users, allowing for continuous operation and customer support.
Users with FleetOnline accounts can securely access only their own information, which is displayed in a Web browser on a map. Account sign in and Verisign encryption take care of keeping data proprietary and safe.
"FleetOnline is now easier to manage than ever," said Groot. "We've recently integrated additional controls for the TrimTrac locator into FleetOnline, so users can manage tracking intervals more easily. Trimble also offers a Vehicle Adapter option, so the TrimTrac locator can be connected to a car battery, eliminating the need to change batteries in the unit itself."
Source: Teydo BV