RocKracker Helps in the Rescue of Two Trapped Miners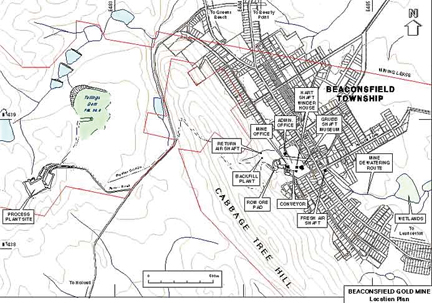 RocKracker® cartridges were used as part of the array of methods involved in the safe release of the two trapped miners in the Beaconsfield Mine, at Beaconsfield in north-east Tasmania, Australia. A rock fall inside the gold mine killed miner Larry Knight and trapped his colleagues Todd Russell and Brant Webb.
RockTek Limited and Eastrock Inc. are proud that RockTek's RocKracker® product has been associated with the mine rescue through the efforts of Darren Flanagan, technical representative for RockTek's Australian Distributor. Mr. Flanagan, who has many years experience with RocKracker® and is an expert in the use of the PCF® (Penetrating Cone Fracture) technology, supervised the use of the RocKracker® products in completing the final stages of the rescue tunnel that had to be digged to get to the two trapped miners in what was deemed an extremely sensitive geotechnical environment coupled to the proximity of the trapped miners who were at the final stage only 300 mm (or 1 ft) from the RocKracker® cartridge initiation.
RocKracker®, distributed by Eastrock Inc., is a high tech, low impact product using PCF® technology developed by RockTek Limited. RocKracker® cartridges are manufactured in accordance with ISO 9001:2000 management standards.
RocKracker® is used to fracture rock and concrete in confined areas or environmentally sensitive locations. RocKracker® cartridges contain a smokeless powder propellant that, when ignited by an electric or shocktube igniter, produces gas that fractures the rock by tensile pressure. RocKracker® cartridges produce minimal vibration hence the successful use of the cartridges in mining, quarrying and civil projects throughout the world.
Classified as a 1.4 explosive product RocKracker® can be readily transported and stored as it is not a high explosive.
The successful use of RocKracker® cartridges in the Beaconsfield mine rescue makes RocKracker® an indispensable tool. The PCF® technology used in RocKracker® cartridges is accepted worldwide as a safer alternative to the use of other types explosives. The unique characteristics of the RocKracker® product make it the product of choice in any confined blasting situation or civil construction or demolition site in environmentally sensitive areas or close proximity to existing infrastructure.
Source: Eastrock Inc.