New Excavator Marks Kobelco America's
Debut in the 80- to 90-Ton Class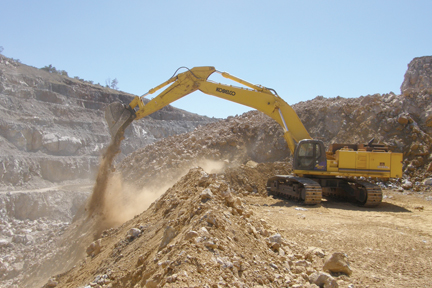 Demonstrating its relentless passion for maximum performance, Kobelco Construction Machinery America introduces the new SK850LC Super ACERA heavy-duty, full-size excavator. The SK850LC expands Kobelco America's full-line of products into the 80- to 90-t class, addressing customers' demands for larger, more powerful machines.
The SK850LC was designed to deliver a competitive edge whether the job requires heavy earth moving, aggregates or demolition. Whether in bridge, highway, building or utility construction or truck loading, this excavator can offer the power and capacity to do it all efficiently and economically.
"The SK850LC Super ACERA illustrates Kobelco's commitment and responsiveness to customers' demands for a heavy-duty excavator in the 80- to 90-ton class that delivers unmatched performance, exceptional quality and dependability," said Paul Golevicz, brand marketing manager at Kobelco America. "Combined with many of the features found on our other newly introduced excavators, the SK850LC completes the full-range of Kobelco's excavator line, which now ranges from 1,7 t to 85 t, demonstrating Kobelco's commitment to its customers to provide superior power and increased capacity without sacrificing fuel economy."
In keeping with the ACERA tradition, the SK850LC delivers brute force for heavy-duty applications, providing a whole new level of productivity. The excavator has faster cycle times as well as a large bucket capacity making work more efficient. The SK850LC provides extremely competitive breakout, drawbar pull and swing torque forces, combining precision and power to maximize performance.
The SK850LC has four standard working modes for enhanced performance. The H Mode allows heavy digging and high productivity while the S Mode delivers standard digging and increased fuel savings. During field tests, the SK850LC has shown a significant increase in fuel efficiency. In fact, the SK850LC's fuel consumption parallels with smaller models in its class. The other two work modes include the B Mode which powers one-way flow attachments (e.g., breakers), and the A Mode for attachments that require two-way flow.
Kobelco's innovative design makes the SK850LC easier to transport compared with other machines in its class. The excavator can easily be configured four different ways for shipping and transport to meet varying local requirements, thus reducing the time, cost and number of trucks needed to move to a job site.
The machine features the same enhanced cab design for operator comfort and efficiency as all ACERA excavators. It also features a seven-way adjustable suspension seat, cross-flow air ventilation and an orange backlit monitor with sunshade for easy daylight viewing.
Like other Kobleco excavators, the SK850LC is designed to simplify routine maintenance checks, thus increasing productivity and decreasing downtime. A centrally located catwalk provides access to filters, engine compartment, swing motors and storage areas. Other routine maintenance checks are easily completed from a walking platform.